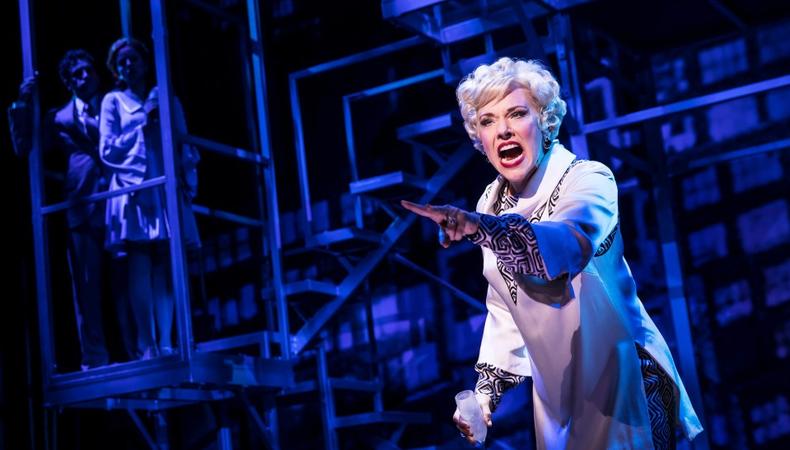 Tony-nominated stage veteran Emily Skinner is the arguable MVP of the Main Stem's newest tuner, "The Prince of Broadway," a revue-type show derived from the catalog of legendary director-producer Harold Prince. Skinner, back on Broadway for the first time since 2008's "Billy Elliot," takes on an entirely Stephen Sondheim track, stepping (briefly) into some of theater's most iconic roles from such shows as "A Little Night Music" and "Company."
In the midst of eight shows a week, Skinner spoke with Backstage about how she prepares for auditions and the one resource in New York City that she believes all actors should be using.
Tell us about 'Prince of Broadway.'
I hate to call it a revue show because I feel like that sort of minimizes what it is. It's the Cliffs Notes of Hal Prince's musical theater career. It's numbers from most of his iconic shows and some from his lesser-known musicals, as well. For a certain audience member, I think it's a really emotional show because it's like watching your life go by. My mother came on opening night and she said as soon as [company member] Tony Yazbeck started to sing 'West Side Story,' she started crying. It took her back to being 12 years old and hearing that cast album for the first time. All of these shows land in front of your face and you remember where you were and the impact they had on you at the time.
What is it like to portray some of theater's most iconic roles?
It's funny because, rather than thinking about it as, 'Oh my god, [Prince's] iconic stuff,' all the material in this show is so good, it's so damn good and so masterfully crafted, all you have to do is stand up there and deliver it and it lands. As an actor, that's like Christmas, that's a gift. So often you're given material that is not as well-crafted or well-thought-out and your job is to make it better or lift it. Not in this show, boy! You just have to get out of its way. Each song is like its own three-act play.
How did you get your Equity card?
I moved to the city right after I graduated college—I went to Carnegie Mellon—and the first month I was here I got so lucky, I booked the workshop of 'Jekyll & Hyde.' That was how I got my Equity card, doing that, and I thought, 'Oh, this is gonna be a breeze! This is going to be so easy and wonderful,' and then I didn't work for, like, nine months after that.
How do you prepare for auditions?
[My preparation] depends on the audition. If it's revival-type stuff or classic material, I always go to the original source. I'll go to that fabulous performing arts library [New York Public Library for the Performing Arts] here in the city that's so awesome, where you can go and watch everything. I've utilized that wonderful place so many times and I often feel that people don't know about it and, god, it's great. It is the best thing ever if you're an actor, especially if you have to go in for something very quickly, it's a very good resource.
Do you still get nervous for auditions?
I get nervous when I have to do things when I feel under-prepared. Sometimes, that's an audition. Or if it's a concert job and I have minimal rehearsal time, I'll get nervous. Things where I feel ill-prepared. My sister is in the improv world and I have such awe and respect for people in that world because you're just flying off instinct.
What advice would you give your younger self?
Actor's life is a stamina game and it's looking at the long road. Be gracious to the people that you're working with, don't be a jerk, show up, and do the work. Do the work with focus and integrity and do good work consistently. But mainly, it's a stamina game. If you can stick it out, you will eventually work.
If you're feeling inspired, check out Backstage's theater audition listings!