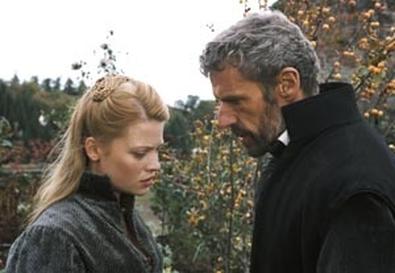 Like all juicy bodice-rippers, "The Princess of Montpensier" begins in a time of great strife. Based on the controversial 1662 short novel by Madame de La Fayette, the story takes place in 1567, when France is embroiled in a bloody civil war.
The handsome Henri de Guise (Gaspard Ulliel) and his mentor, Comte de Chabannes (Lambert Wilson), are among Catholic aristocrats fighting with Protestant reformers, or Huguenots, for domination. After a particularly vicious battle, Chabannes decides to renounce warfare and return home. When they arrive, de Guise discovers that the woman he loves, the luminous Marie (Mélanie Thierry), has been promised by her father (Philippe Magnan) in a political match to de Guise's childhood friend, the brutish Prince de Montpensier (Grégoire Leprince-Ringuet), creating a bitter rivalry between the two.
After his marriage, Montpensier is called back to fight and agrees to leave Marie in Champigny, a distant castle, in the care of Chabannes, who will instruct her in preparation for a life at royal court. Chabannes soon develops unrequited feelings for the bright young beauty but refuses to betray his former student. Montpensier and Duc d'Anjou (Raphaël Personnaz), the rakish young heir to the throne, visit Champigny, and d'Anjou also falls for Marie. At the same time, de Guise plots a way to reconnect with his lost love, inflaming the jealousy of the prince and d'Anjou.
Director Bertrand Tavernier may be best known to American audiences for his 1986 jazz film " 'Round Midnight." Unlike that cool classic, here the French filmmaker has attempted to make a hot romance using a sea of beautiful young actors. It's not a good fit. Chief among the beautiful people is Thierry.
While she is certainly attractive, she lacks the charisma and, frankly, the acting chops to make you believe that this young woman lights the passions of these men. In most scenes, Thierry seems completely out of her depth, struggling with the dialogue as well as her co-stars, who are a varied lot. Leprince-Ringuet seems equally overwhelmed by his role, yet in a few scenes this discomfort evokes a pathos that works for his character. Ulliel and Personnaz, in the more showy roles, add a dash of devilish fun to the story. While Personnaz displays a sharper wit, Ulliel brings a richer variety of notes to his portrayal of the besotted lover.
But the true gem in this film is Wilson as the war-weary teacher and mentor, the moral center of the film. Wilson plays the role with quiet confidence. In each scene, you can read in his face all the emotions that Chabannes is struggling to suppress. As the only adult in a sea of passionate lovers, all of whom throw caution to the wind, Chabannes tries to maintain a moral code and his sense of self. Wilson gives a subtle but impressive performance.
Genres: Historical romance, drama
Directed by Bertrand Tavernier
Produced by Frédéric Bourboulon, Laurent Brochand, and Eric Heumann
Screenplay by Jean Cosmos, François-Olivier Rousseau, and Bertrand Tavernier
Starring Mélanie Thierry, Lambert Wilson, Grégoire Leprince-Ringuet, Gaspard Ulliel, Raphaël Personnaz