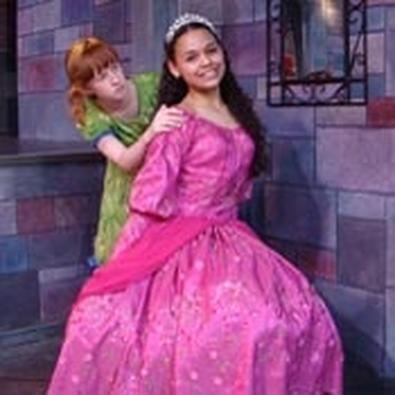 With such a delightfully goofy title, what's not to like? This smart and adorable show, with book and lyrics by Lisa Diana Shapiro and music by Eric Rockwell, about a stubborn princess who cares nothing for the trappings of her station, has charm and Broadway pizzazz in abundance. The overall polish is even more impressive because the cast is aged 9-17. Under Tada! artistic director Janine Nina Trevens' savvy direction, these kids really sell the material.
Sleeping Beauty Elessia (Jasmine Perez, 15) is awakened by her Prince Charming (Christopher Broughton, 17). But they can't get married just yet, as her parents have temporarily left her in charge. Her main problem: What to do with her tomboy kid sister, Ermengarde (dynamo Katie Lerner Lee, 12, who alternates with Mary Claire Miskell, 13), also known as Princess Phooey.
Phooey hates princess pink, refuses to get a new do, and knows she's as brave as any old prince. Together with three self-obsessed good fairies -- strictly of the oh-my-gosh variety -- Elessia determines to get Phooey in line. The latter is happiest among the chamber maids and the stable boys and even befriends Morbidia (Alex Getlin, 14), the fairies' evil sister.
Under Jim Colleran's musical direction, the varied tuneful songs with wittily subversive lyrics -- "It's morning, and I've got morning breath," sing the courtiers -- are fun, never patronizing. The ragtime "Dancing the Castle Clean" (clever choreography by Joanna Greer), "Spare Princess," and Phooey's 11 o'clock number, "Nobody's Fairy Tale," are standouts. The cheerfully egalitarian message -- Phooey would rather mingle with the commoners -- is never heavy-handed
Production aspects -- the picture-book set and costumes by Sarah Martin and Cheryl McCarron, respectively, and Steve O'Shea's lighting -- are tops. At a packed Saturday matinee, those most discerning of pint-size critics watched with delight, making nary a peep -- the ultimate accolade.
Presented by and at Tada! Youth Theater,
15 W. 28th St., NYC.
April 24-May 18. Schedule varies.
(212) 252-1619 or www.tadatheater.com.