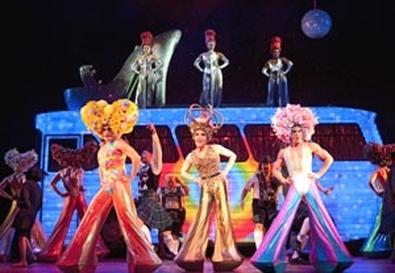 In the second act of the musical version of "The Adventures of Priscilla, Queen of the Desert," the 1994 cult film comedy about a trio of drag queens crossing the Australian outback in the titular vehicle, a chorus of singers, called Divas, descends from the flies and erupts into Cyndi Lauper's anthem of carefree abandon "Girls Just Wanna Have Fun." As the song says, that's all they really want—and so do the creative team and cast. They just wanna tell a simple story, give us a few laughs, work in a little message about tolerance, and dazzle us with spectacular outfits. The show succeeds brilliantly on its own terms and will probably be keeping a lot of chorus boys in sequins and feather boas for many a season.
I will admit, I was armed against the show's charms. The idea of a hybrid of two recent alarming Broadway trends—plunking down a movie on stage and employing existing pop hits rather than writing an original score—did not thrill me with anticipation. But once Sydney female impersonators Tick, Adam, and Ralph—or, as they are more glamorously known in their drag identities, Mitzi, Felicia, and Bernadette—boarded Priscilla to take a casino gig in far-off Alice Springs, I was hooked. The book, by Stephan Elliott, author of the original screenplay, and Allan Scott, may employ the "Mamma Mia!" method of shoehorning the disco tunes of the movie's time frame into the story, but so what? Almost every musical reference is accompanied by a spectacular and inventive drag explosion. When someone leaves a cake out in the rain, you just know "MacArthur Park" will be on the jukebox next, but the parade of umbrella-toting dancers dressed as cupcakes gives the number such zing that it's a joyful expression of camp sensibility. More important, Elliott and Scott never condescend to the characters, granting each—from the leads to the smallest walk-on—complexity and dignity.
It's impossible to say who is most responsible for the lightning pace, visual punch, and sheer pizzazz that make "Priscilla" such a peach of a physical production. Simon Phillips and Ross Coleman receive credit for direction and choreography, respectively, as they did in the Australian production, but Broadway's Jerry Mitchell gets a "production supervised by" line. Then there are those out-of-this-world costumes, designed by Tim Chappel and Lizzy Gardiner, who also created the Oscar-winning clothes for the film.
I don't know how they did it, but just when you think they can't top themselves, another eye-popping creation is brought out. Production designer Brian Thompson manages to re-create in theatrical terms the movie image of a bus hurtling through an immense desert. They've all been inspired by the flamboyant and fabulous spirit of lead producer Bette Midler.
Amidst all this razzle-dazzle, it would be easy for the actors to be overwhelmed. Fortunately, that doesn't happen. In the least showy role, that of the levelheaded Tick, the leader of this zany band, Will Swenson provides a solid base from which his loonier cohorts can take off. He also movingly conveys Tick's conflicted emotions about being a father to a small child. Tony Sheldon, a veteran of the Australian production, balances the lonely, transsexual Bernadette's biting wit with a heartbreaking vulnerability. Nick Adams leaps from the chorus of "La Cage aux Folles" to a memorable star turn as the impulsive Adam, who's still a little boy underneath all that energy and muscle. As Bob, a mechanic hesitatingly pursuing Bernadette, C. David Johnson adds substance to what could have been a utilitarian character. In smaller roles, J. Elaine Marcos, Keala Settle, and Nathan Lee Graham sparkle as they support.
Like two other recent screen-to-stage transfers, "Legally Blonde" and "The Wedding Singer," "Priscilla" will probably receive some critical brickbats from theatrical purists. But like those shows, "Priscilla" is a roaring good time, so just relax and let the girls—and yourself—have some fun.
Presented by Bette Midler, James L. Nederlander, Garry McQuinn, Liz Koops, Michael Hamlyn, Allan Scott, Roy Furman/Richard Willis, Terry Allen Kramer, Terri and Timothy Childs, Ken Greiner, Ruth Hendel, Chugg Entertainment, Michael Buckley, Stewart F. Lane/Bonnie Comley, Bruce Davey, Thierry Suc/TS3, Bartner/Jenkins, Broadway Across America/H. Koenigsberg, M. Lerner/D. Bisno/K. Seidel/R. Gold, Paul Baskind and Martian Entertainment/Spirtas-Mauro Productions/MAS Music Arts & Show, and David Mirvish, in association with MGM On Stage, Darcie Denkert and Dean Stolber, at the Palace Theatre, 1554 Broadway, NYC. Opened March 20 for an open run. Mon., 8 p.m.; Tue., 7 p.m.; Thu. and Fri., 8 p.m.; Sat., 2 and 8 p.m.; Sun., 2 and 7:30 p.m. (877) 205-2929 or www.ticketmaster.com. Casting by Telsey + Co.