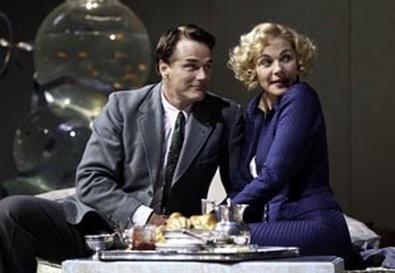 I once saw a "Blithe Spirit" directed by Harold Pinter for London's National Theatre in which virtually every laugh was killed by Pinter's apparent desire to explore the dark underbelly of Noël Coward's frothy comedy. Director Richard Eyre hasn't gone quite that far with "Private Lives." Nevertheless, his tiresome insistence on naturalistic acting rooted in emotional truth pretty much does the current Broadway production in, despite a talented cast that quite likely could deliver the comedy under happier circumstances.
That's not to say that Coward's 1929 classic, about a divorced couple who discover to their horror that they and their new spouses are occupying adjacent hotel suites in Deauville, France, for their second honeymoons, is untruthful. But Elyot, Amanda, Victor, and Sybil are all also archetypes, and to play this archly delirious comedy—about two people who can't live together yet are less than themselves apart—too close to the ground is to invite danger. When, early on, Paul Gross, as Elyot, bellows at his new bride, Sybil, "I should like to cut off your head with a meat axe," because she won't abruptly abandon Deauville and go to Paris without explanation on their wedding night, we shrink rather than laugh and quickly case the set for sharp objects.
And speaking of the set, designer Rob Howell has made a major miscalculation with his Parisian flat for Amanda. An enormous space with high ceilings and a skylight, it's built on oval shapes and decorated attractively in art moderne style. But the ovals soften the almost farcical comedy, and the overall effect is to dwarf the occupants, making Amanda and Elyot seem smaller and pettier than ever. The set is dominated by a huge fish tank—three glass globes piled atop one another containing real goldfish—that not only draws focus but is used for an unfortunate (and unbelievable) sight gag. That the gag nevertheless draws one of the evening's biggest laughs speaks volumes about Eyre's earthbound approach.
The reason for this revival is Kim Cattrall, a fine stage actor whose "Sex and the City" TV and film gigs have made her bankable. Cattrall, in her mid-50s, looks great and handles an English accent effortlessly, but she has trouble locating Amanda's dryness and mercurial whimsy. Gross, also 50ish, a top Canadian star known here for his wonderful work on the TV series "Slings and Arrows," looks just as great and brings a commanding presence to the stage. In Act 3, he has a short section where he shows that he has the requisite style to play a successful Elyot, flippantly tossing off line after line with flair, but it's too little too late.
Simon Paisley Day is a Victor straight out of the British Raj, more Col. Pickering and less functionary milquetoast than usual, but it's certainly a plausible approach. Anna Madeley's Sybil is too formidable too soon, making her early histrionics annoyingly shrill and undermining the comic effect of her final, no-holds-barred altercation with Victor. Caroline Lena Olsson is a suitably Gallic presence as Amanda's long-suffering maid, Louise.
When "Private Lives" debuted in the West End in 1930, Coward, who also played Elyot, was 30, and his co-star, Gertrude Lawrence, was 32. The text makes a point of saying that Elyot is 30, and Amanda is clearly his contemporary (something that should have been adjusted upward here to suit the stars but hasn't been). There's also a great deal of talk in the play about careless youth and how Amanda and Elyot are finally mature, which should be the source of comedy. Unfortunately, the recent trend has been to cast starry actors well into middle age in these roles. But there's a world of difference between the young and the middle-aged behaving as these characters do. For a revelatory "Private Lives" today, I'd suggest starting with age-appropriate casting.
Presented by Duncan C. Weldon and Paul Elliott, Theatre Royal Bath, Terri and Timothy Childs, Sonia Friedman Productions, Bill Ballard, and David Mirvish at the Music Box Theatre, 239 W. 45th St., NYC. Nov. 17–Dec. 31. Tue., 7 p.m.; Wed.–Sat., 8 p.m.; Wed. and Sat., 2 p.m.; Sun., 3 p.m. (212) 239-7200, (800) 432-7250, or www.telecharge.com.