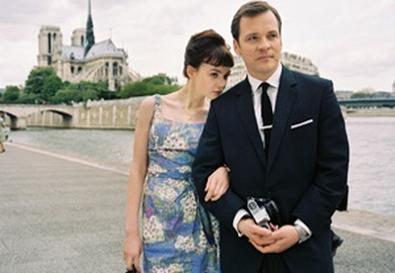 Carey Mulligan honed her patience waiting for "An Education" to get green-lighted. She read for it "about three or four times," she says, one of which was opposite fellow star Peter Sarsgaard, once with the film's director, Lone Scherfig. "It was in my life for a long time," Mulligan says. "And then I got the job and it was another six months before we actually shot it. I didn't actually quite believe that it was ever going to get made, really." But the wait caused her no anxiety, in particular because she never thought of herself as the film's lead: "I always thought it was sort of an ensemble film, and I just happened to be in it a lot."
She plays Jenny, a 16-year-old whose thoughts of seeking admission to Oxford University fall aside when she meets David, an older, ultra-sophisticated man, played by Sarsgaard. "I'm in it a lot, but so's Peter," says Mulligan, "and Dominic and Ros." Dominic Cooper and Rosamund Pike play Jenny's two new, sophisticated friends. "And we're all making this film together. I think Lone took that weight of responsibility away from me. I felt like I was just telling Jenny's story, and she took that and she monitored and she was in charge of the arc of my character. I just played things scene by scene." Age 22 at the time of shooting, Mulligan slips into the teen character with honesty and a touch of respect.
Mulligan attributes her rising star to luck and her enthusiasm for each project. Never formally trained, she was active in drama in school in the United Kingdom. After British actor-writer Julian Fellowes spoke to the students there, she contacted him to ask for career advice. Through the convivial Fellowes, she eventually was put on tape for a role as one of the Bennet sisters in the 2005 movie "Pride & Prejudice."
As Mulligan tells it, while rehearsing for "Pride & Prejudice," she was cast in a play at London's Royal Court Theatre, and any ideas she may have had of getting into one of Britain's fine drama schools slipped away, with Mulligan thinking she would try to learn by experience—a coincidental but happier parallel to Jenny's path. She credits her various directors for taking ample time to coach her, and she apparently soaked it up. She says her raw enthusiasm was a signal that she was open to their help.
"I was really lucky," Mulligan says. "I didn't stop working for three or four years." Then she stepped out of the business. "I think the gaps in your work come when you start doing bigger things, and maybe then you kind of take a little time to think about what you want to do next," says the savvy actor.