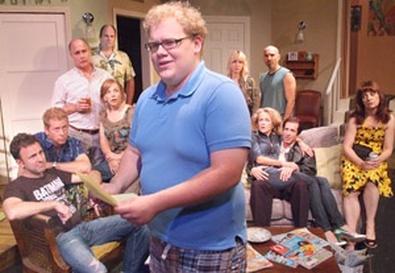 There's much creation but not a lot of pro going on here. In this, the latest of his many plays to bring zing to Los Angeles stages, playwright Justin Tanner offers lessons in script structure and comedic pacing. Likewise, director David Schweizer guides his plenteous cast through Tanner's wry world, enhancing the precision of timing and the bounty of color, visual and aural. The actors, all the way down to those with a smattering of lines, are dab hands at stagecraft. The script's themes are timeworn but worth repeating: The apple doesn't fall far from the tree, love your children well, and so on. The style is outrageousness, which usually gets the audience's attention. Why, then, does this production not live up to its pedigree?
The setup is a family gathering for grandma's birthday, in the cozily cramped and almost-pleasantly unkempt home of her daughter Hope (Melissa Denton) and Hope's husband, Michael (Michael Halpin). They are fully aware of their son Gavin's (Kody Batchelor) eating issues but perhaps less aware of another surprise he springs on them. First of the guests are Hope's sister Deanie (Patricia Scanlon) and Deanie's unemployed husband (Andy Marshall Daley). They are swiftly joined by the immaturely leechy brother (Brendan Broms) and the "openly" gay brother (Danny Schmitz), who brings with him a stray he met somewhere (Chloe Taylor). The family dynamics are in full bloom by the time granny (Danielle Kennedy) and her guest (Jonathan Palmer) burst onto the scene.
Standouts among the veteran cast are Halpin, who offers a clear, sturdy characterization; Tom Fitzpatrick, quick with the quips as a surprise guest; Taylor who with great truth plays the happily unaware outsider; and the stellar Kennedy, a comedian of unsurpassable, surprisingly subtle, chops.
So, in sum, what happened 'twixt pen and lip? By play's end, we've gleaned nothing and felt no transformation. It's like raising children: You can put your all into it, but when the raw materials aren't a good mix, the results can be disappointing.

Presented by the Odyssey Theater, Linda Toliver, and Gary Guidinger at the Odyssey Theatre, 2055 S. Sepulveda Blvd., L.A. July 16–Aug. 15. Fri., 8 p.m.; Sat., 7 and 9:30 p.m.; Sun., 7 p.m. (310) 477-2055. www.odysseytheatre.com.