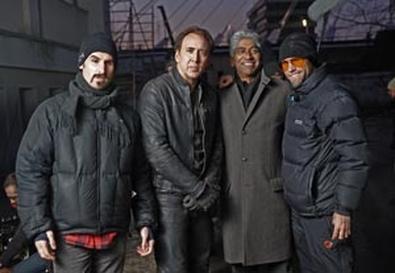 You would think that playing professional tennis would be a big enough dream come true for most people. But for Ashok Amritraj, it was just a start. Growing up in the 1950s and '60s in Chennai (then called Madras), capital of the Indian state of Tamil Nadu, Amritraj was fascinated by the American movies that made their way to his corner of the world. He remembers, of course, the likely suspects—"Ben-Hur," "The Sound of Music"—but also recalls more intimate films, such as those made by a man who would later become his friend, Sidney Poitier: "To Sir With Love" and "Guess Who's Coming to Dinner."
Fast-forward a few decades, and Amritraj now makes American movies. He has produced a diverse array of films, from director Robert Rodriguez's political satire/action flick "Machete" to the Kate Hudson–as-relatable-single-gal project "Raising Helen." He has helped Steve Martin chase his artistic id ("Shopgirl") and satisfy his commercial ego ("Bringing Down the House"). And as chairman and CEO of Hyde Park Entertainment, Amritraj has helped bring such films as "Blue Valentine" and the upcoming "Our Idiot Brother" to screens.
But first there was tennis. Before he was a film producer, Amritraj found success in what he calls "the family business." He has played in all four major tournaments and reached the finals of the Wimbledon juniors in 1974. The next year, future Los Angeles Lakers owner Jerry Buss brought Amritraj to L.A. to play for his World Team Tennis franchise. Amritraj would play alongside the legendary Billie Jean King and Chris Evert—and also sow the seeds for a second career. But transitioning to filmmaking wasn't easy.
"Coming in through a sport is sort of a double-edged sword," Amritraj says. "I remember once I got into the business, I would be invited to play tennis at everybody's house but never got a movie made for a while." He recalls sending scripts around to studio executives, then following up weeks later via telephone, only to be disappointed. "One of the very high-up studio executives would spend 20 minutes on the phone with me about his forehand and his backhand. Finally when it was winding down I would say, 'By the way, you know I sent you this script and it's been a couple of weeks now.' And he'd say, 'Oh, yeah. You know, we passed on that about a week ago.' It was about five years of looking at myself in the mirror, wondering why I stopped playing tennis."
But persistence paid off. Amritraj "went independent" and found himself working alongside B-movie legend Roger Corman. It was the '80s, and video and cable were changing the film industry—much as the Web is changing it today. Amritraj helped Corman crank out movies on tight budgets to feed the home-viewing audience's appetite.
"It was a great [way] to cut your teeth and understand how to spend your money the right way, and how to cast the movie right, and then be involved also in the marketing of the film," Amritraj says. "It gave you a very sort of global perspective."
That global perspective has stuck with Amritraj as the '90s came around and he began producing movies on a grander scale, working with such actors as Alec Baldwin, Ben Kingsley, and Cuba Gooding Jr. Now, in an era when the biggest summer blockbusters sometimes open in Asia before being released in the U.S., Amritraj finds himself able navigate the global film industry with relative ease.
"I am at home in India, or Singapore, or the Middle East, or here," he says. "And it helps me, because I've broken down a lot of barriers, and built bridges between the Eastern and Western filmmakers and cultures—I think I've broken more people into Indian food here over the last 30 years, single-handedly, than anyone."
But it's not just the shift of the industry from a domestic to a global scale that Amritraj has seen and survived. He made his bones in video—a market that no longer thrives in a world of Netflix, Hulu, iTunes, and other streaming video. Just as actors struggled to get studios to cut them into the profits from video sales decades ago, so too do they now have to keep their eyes on how new-media technologies are affecting the way films are made, released, and profited from.
Many industry observers—from studio executives to background performers—agree that new-media distribution has caused a shift in the way business is done, but they say the ground hasn't yet settled beneath anyone's feet. Amritraj expresses a similar sentiment.
"There will be new models coming up in the next few years, and I feel that that will be helpful from a revenue standpoint, but the clarity is still not there as far as how the loss of revenue from DVD will be specifically picked up," he says. "Whether it's the U.S. or it's Europe or it's Asia—in each part of the world, they are working on different strategies."
In a time of great change, Amritraj continues to do what he has done for decades: produce movies. He recently wrapped "The Double," with Richard Gere and Topher Grace, and is hard at work on "Ghost Rider: Spirit of Vengeance," with Nicolas Cage and Idris Elba. All are actors he has never worked with before.
"It's great to work—and fun to work—with the actors," Amritraj says. "I've always maintained a relationship with the actors I've worked with and directors I've worked with. And at the same time, it's exciting to work with new talent as well."
He has a history with new talent. In 1990, when he was working his way from B movies to the mainstream, Amritraj was at the Cannes Film Festival when "This kid comes running up to me, and he says, 'You know, out of 800 photos I sent out, yours was the only call I got back?' "
The kid was Jean-Claude Van Damme, and he and Amritraj went on to make the 1991 movie "Double Impact," in which Van Damme played twins separated at birth—both of whom, unsurprisingly, grew up to be really good at fighting people. Amritraj still speaks fondly of the film, not just because of Van Damme but because Amritraj was able to cast, as the villain, Bolo Yeung, whom Amritraj remembered from the Bruce Lee classic "Enter the Dragon." It's not hard to imagine Amritraj pleased to tie his then-new life as a producer back to his formative experiences seeing movies.
"That was great fun!" he says with a laugh, reminiscing about "Double Impact." "That was the first one that broke through."