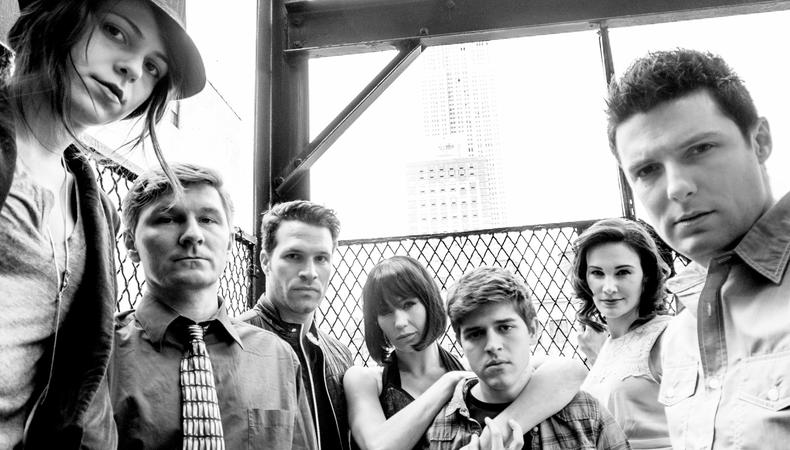 I first became acquainted with Brad Fraser's "Love and Human Remains" when I was an undergrad at Ithaca College and The Kitchen Theatre in Ithaca had a regional production of it. Like many other college-aged youths, my inner soundtrack consisted of nearly every Cure song. I was full of life, angst, questions, and emotions that I didn't know existed within me. When I saw the poster for the show, it spoke to me. The people depicted in it were attractive but all looked lost and longing for something. It was like they were communicating "that in which we do not speak of" without words. The sides of ourselves that we hide with make-up, perfectionistic behavior, and the ever-elusive smile. Things looked fine but they weren't. They really weren't. What was this show? I saw it that night. And then again the next night. And then one more time before it closed.
In a nutshell, "Love and Human Remains" is an edgy, provocative, dark-humored drama about the intertwined lives of seven individuals. In the backdrop is a serial killer who is terrorizing the women in the city in which they live. These seven individuals are you, me, your neighbor, that guy who sat next to you on the train today, that woman who you work with who seems to have it all together. Brad Fraser gives us a glimpse into what the human condition can be like—the highs, the lows, the humor, the desperation, the aggression, the longing for love, and ultimately...the longing for acceptance. Through his play, we travel to places that are raw and primal—places that we often don't like to acknowledge really exist.

In 2002, about five years after I graduated from college, I decided I wanted to mount this show. I produced the show at the Gene Frankel Theatre and hired my best friend/actor/director Clyde Baldo to direct it, and cast Douglas Dickerman, who played David in the Kitchen Theatre's production, to reprise the role. I still had the acting bug then so I cast myself in the role of Jerri. It was a wonderful, cathartic experience.
Nine months ago I was at Clyde's house playing Scrabble. I was restless and thinking that I wanted to create something magical and involve people from AGR. I looked on his wall and saw the poster of "Unidentified Human Remains and the True Nature of Love" by Brad Fraser.
Do you remember that scene in "Titanic" when old Rose looks at the footage of the Titanic and then closes her eyes and sees visions of it? That's exactly what happened next for me. I closed my eyes and saw a vision of myself at Playwrights Horizons, AGR'rs Nicholas Baroudi and Kerri Lynn Miller playing the roles of Bernie and Candy, respectively, in a full-scale production of the updated "Love and Human Remains," people waiting in line to pick up their tickets and then having the experience of a lifetime at the theater.
I saw myself shaking hands and sitting back and smiling as people were moved by what they saw. It was at that moment I turned to Clyde and said, "Let's do the show again...but this time...let's go big." I told him I had two people in mind already. For the rest of the roles, I wanted to cast more AGR'rs and/or unknown actors. I wanted to create an incredible platform for them. I wanted to revamp "Love and Human Remains."
In November 2013, I officially hired Clyde Baldo to direct the show again. I then spoke to Nick and Kerri, and they both fell in love with the script and signed on. In December 2013, I got the rights for the show and went to Playwrights Horizons and put down a deposit to secure the space. In January and February, two investors came forward—even though I was willing to do this on my own. In March, we released a breakdown and ended up casting AGR'rs Frances Brennand Roper (who flew in from Los Angeles and who I helped relocate here), Paul Castro Jr. (who didn't submit for the project but I remembered him from three years ago and searched fearlessly through my email for him late on a Friday night), and actors Dan Almekinder, Zach McCoy, and Cassandra Paras. In May we hired our crew and began rehearsing. In June, things began happening in the rehearsal process that blew my mind. In my entire career I have never worked with actors who were willing to travel into such dark, primal places as my cast has. The show was beginning to take shape...and it was even better than before. It was my vision.

It's now nine months after it all began. My baby is one week way from being born when previews begin July 21.

It is with great enthusiasm and passion that I invite you to "Love and Human Remains" by Brad Fraser at the Peter Jay Sharp Theater at Playwrights Horizons!