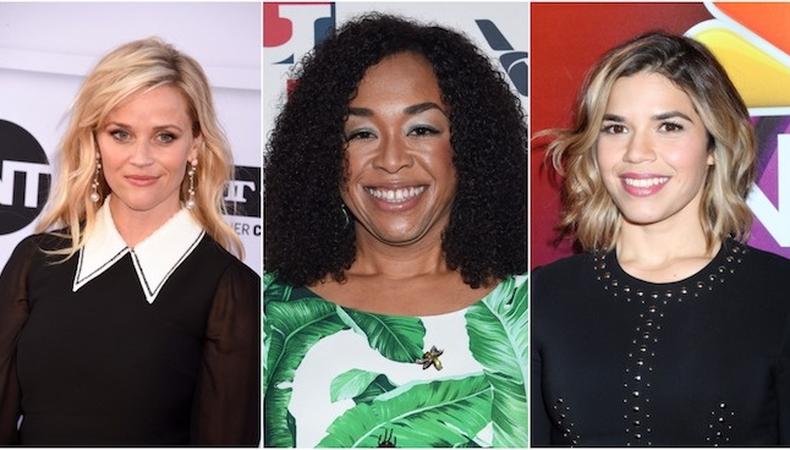 Reese Witherspoon, America Ferrera, Shonda Rhimes, and other high-profile women in Hollywood have come together to form a concrete plan to combat sexual harassment, gender bias, and an overall gender imbalance both within the entertainment industry, and outside of it.
Called Time's Up, the organization already includes a whopping 300 female actors, agents, writers, directors, producers, and other entertainment figures, all of whom have pledged to support women outside of the business in the fight against harassment. The scrupulous initiative includes conditions specific to blue-collar workforces such as a legal defense fund to help "less privileged" women like nurses and factory workers protect themselves from abuse.
Announced on the first day of 2018 via a letter that also ran as a full-page ad in the New York Times, Time's Up is a direct response to the message of solidarity received by women in Hollywood at the end of 2017 from Alianza Nacional de Campesinas (the National Farmworker Women's Alliance).
"To the members of Alianza and farmworker women across the country, we see you, we thank you, and we acknowledge the heavy weight of our common experience of being preyed upon, harassed, and exploited by those who abuse their power and threaten our physical and economic security," the letter reads. "We have similarly suppressed the violence and demeaning harassment for fear that we will be attacked and ruined in the process of speaking out. We share your feelings of anger and shame."
Beginning with allegations against prolific producer Harvey Weinstein, the entertainment industry has been rocked by an enclave of sexual harassment and abuse accusations of dozens of powerful men both in front of and behind the scenes. The cultural moment has come to be defined as the #MeToo movement, which has been criticized for focusing much more closely on high-profile victims. Time's Up intends to broaden the spectrum of the movement to include women working in all fields, including the entertainment industry.
Read the full letter of intent here.
Head over to Backstage for more industry news.