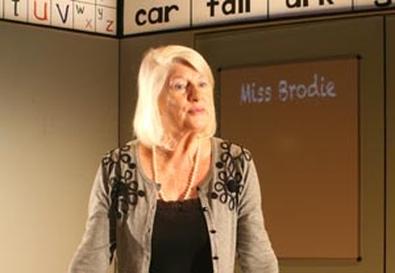 In Douglas Maxwell's ambitious one-woman play "The Promise," we are introduced to another Miss Brodie, one just as formidable as Muriel Spark's classic creation. She is Maggie Brodie, a retired teacher who is back in her local London school for a day of substitute teaching. Whether Miss Brodie is past her prime or just about to achieve it is the question at hand. Maggie is quickly shown to be a talented teacher and not one to be trifled with. She denigrates her colleagues, especially the young "Call me Gordon" headmaster. When she learns that he has termed her "venerable," she replies, "Venerable I can live with. Vulnerable, never."

But Maggie's proud integrity is put to the test when Rosie, a 6-year-old Somali girl in her class, refuses to speak and is designated "an elective mute" by the headmaster. When community leaders, who believe Rosie is possessed, are invited by the headmaster to come to school to begin her "treatment," Maggie, feeling an instant connection to the child, believes that she must take matters into her own hands.

While the playwright indicates that Maggie might be a heroine, he is at great pains to demonstrate that she is a flawed one. She drinks more than a little, she has a sexual history with many men, and her overwrought relationships with her dour father and fragile younger sister haunt her. Despite her bravado, she is indeed vulnerable. Maxwell has placed on Maggie's slender shoulders several weighty themes: the art of responsible teaching, feminist rights, possible paternal abuse, and female mutilation. These issues swirl about as Maggie's best intentions unravel. Alas, as the play spirals down to its melodramatic conclusion, Maggie's loss of control is the playwright's as well.

Along the way, however, there is some adventurous writing, and it's well served by Johnny McKnight's smooth direction, Lisa Sangster's pristine set, and Dave Shea's atmospheric lighting. But the best reason to see "The Promise" is to be introduced to actor Joanna Tope, who not only makes unreasonable things credible but does so with a determination that burns. With her silver hair, saucy swagger, and impeccable diction, the talented Tope is most welcome to New York stages.

Presented by Random Accomplice and the Scottish government as part of Scotland Week at 59E59 Theaters, 59 E. 59th St., NYC. April 3–17. Tue. and Wed., 7:15 p.m.; Thu. and Fri., 8:15 p.m.; Sat., 2:15 and 8:15 p.m.; Sun., 3:15 p.m. (212) 279-4200 or www.ticketcentral.com.