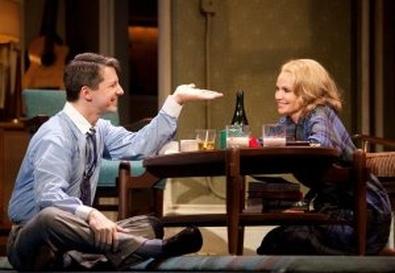 While "Promises, Promises" may have been a perfectly timed commercial confection for 1968, it's never been an A-list musical. Neil Simon's anything-for-a-laugh book coarsens its basis, Billy Wilder's classic 1960 film "The Apartment," while Hal David's trite pop lyrics strain mightily when asked to convey character or advance plot. Only Burt Bacharach's fizzy score is the real deal, with its original and period-defining sound. So it's no surprise that it has taken 42 years for the show to come back to Broadway. A confluence of events is behind its reappearance, the first being the success of the '60s-set TV show "Mad Men" and the second the interest of two stars who might sell tickets. Unfortunately, Sean Hayes and Kristin Chenoweth aren't suited to their roles. It may not matter commercially, given the predilection of today's Broadway audiences for seeing their idols in the flesh and hearing songs they already know, but it definitely prevents the pot from boiling.

The musical follows the film closely. Junior accountant Chuck Baxter lets executives at his firm use his bachelor apartment for adulterous assignations in the hope of being promoted into their ranks. Chuck pines for the young, pretty Fran Kubelik, a naive cafeteria worker having a troubled affair with manipulative head executive J.D. Sheldrake. When Sheldrake finds out about Chuck's scheme, he commandeers the apartment for himself. Fran, who barely notices Chuck, ends up taking an overdose of sleeping pills there when she becomes convinced Sheldrake won't divorce his wife. Chuck saves her, and true love blossoms.

For this story to work, both Chuck and Fran must be young and dewy-eyed, just like the movie's radiant Shirley MacLaine (25 at the time) and charmingly vulnerable Jack Lemmon (34 but seeming years younger). If the characters are older and thus more experienced, their actions become off-putting. Neither Hayes nor Chenoweth can conjure such youth believably. Chenoweth often seems at sea in the book scenes, unsure of just who Fran is. Hayes creates a winning bond with the audience in his fourth-wall-breaking asides (the best and most original part of Simon's work), but his Chuck seems too much of a nebbish, who probably deserves his lack of success on the cusp of 40.

While Chenoweth's in fine voice, Hayes sometimes struggles with Bacharach's rangy music, so much so that he needs the addition of chorus boys to help him put over the giddy solo "She Likes Basketball." Chenoweth isn't helped by the shoehorning of two Bacharach-David pop standards into an already long show to beef up her part. "I Say a Little Prayer for You" is at complete odds with Fran's psychology when it occurs and significantly damages her following reunion with Sheldrake, and "A House Is Not a Home" has Fran hoping that Sheldrake will come back and live with her again, though they've never cohabited.

Katie Finneran provides a jolt of energy as a drunken pickup for Chuck at the top of Act 2, but her strident performance drains all the pathos from the character. The reliable Dick Latessa is reliable as the one-lining Jewish doctor next door. Tony Goldwyn's empty (or maybe not) Sheldrake is as confused as the writing.

Rob Ashford's direction prizes yuks over truth, symbolized by a period chair in Sheldrake's office that exists solely for a visual joke requiring utterly unbelievable behavior from Sheldrake, while Ashford's busy choreography can't erase memories of Michael Bennett's delightfully simple "She Likes Basketball" or orgiastic "Turkey Lurkey Time." Set designer Scott Pask imprisons the show in a wraparound cyclorama reminiscent of the Berlin Wall.

A 1997 Encores! concert managed to unearth charms in the problematic material. No such miracle is occurring at the Broadway Theatre.

Presented by Broadway Across America, Craig Zadan, Neil Meron, the Weinstein Company/Terry Allen Kramer, Candy Spelling, Pat Addiss, Bernie Abrams/Michael Speyer, Takonkiet Viravan/Scenario Thailand, and Norton Herrick/Barry and Fran Weissler/TBS Service/Laurel Oztemel at the Broadway Theatre, 1681 Broadway, NYC. Opened April 25 for an open run. Tue., 7 p.m.; Wed.–Sat., 8 p.m.; Wed. and Sat., 2 p.m.; Sun., 3 p.m. (212) 239-6200, (800) 432-7250, or www.telecharge.com. Casting by Tara Rubin Casting.