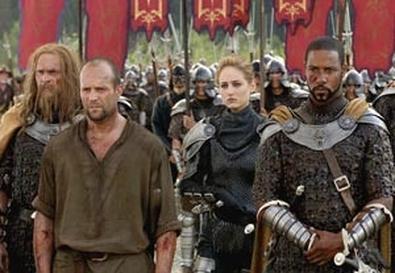 TORONTO -- A propane explosion on the set of Uwe Boll's "In The Name of The King: Dungeon Siege 2" in southern British Columbia injured six cast and crew members, according to the Royal Canadian Mounted Police.
The mishap at around 1 p.m. Tuesday produced minor burns and one broken leg on the set of the Dolph Lundgren-starring thriller following an explosion as portable propane heaters were being filled.
The Ridge Meadows RCMP, the Maple Ridge fire department and ambulances were called to the scene in Golden Ears Park. "Victims received varying degree of burns, but none of the injuries are felt to be life threatening," the RCMP confirmed in a statement.
The provincial agency Work Safe B.C. was notified about the workplace incident, and the RCMP is continuing its investigation into the cause of the explosion. "What made it a little difficult to diagnose these people is that many of them had black face paint on and medieval-type clothing from the movie set," Chief Dane Spence of the Maple Ridge Fire Department told the Globe and Mail newspaper in an interview.
– The Hollywood Reporter