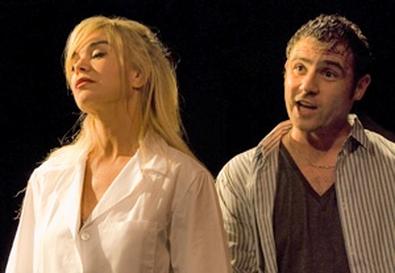 Monto is a part of Dublin with an honored literary pedigree: It served as the model for the red-light district in James Joyce's "Ulysses in Nighttown." In a program note from the playwright, John Paul Murphy, we learn that the area is now "an uneasy mix of social housing and boom-time apartment blocks where gangs of 11-year-old boys perform snatch-raids on the convenience stores." Murphy introduces us to two of the local inhabitants, Larry and Zoe, who each, in language both sacred and profane, provide a version of the events of their bumpy lives. In this attenuated two-hander, Larry and Zoe have entwined monologues in which Murphy often wraps grim and gritty details in Irish poetics.
Zoe is the prophet of the title and is given to flights of psychedelic fancy amid down-to-earth details of her love life. In ambitiously wishing to take his characters beyond their humble environment, Murphy flirts with several serious themes: innocence lost, blindness, dreams versus reality. But he is unable to consistently follow through on these, so the storytelling often dips and dives into murky—and repetitious—territory. It is left to the two performers to be our guides through this swamp of words. Happily, they do this with energy and considerable artistry.
Larry (Michael Mellamphy) is your common Irish layabout, living in a time "before women and work and all that madness." Zoe (Laoisa Sexton), proudly announcing her employment in a pharmaceutical white coat, is keeping company with Larry's younger twin, Liam, which makes Larry and Zoe immediate adversaries. For Zoe, Liam is "saintly, blessed," while Larry, agreeing with this, sees his brother as an innocent, blind to Zoe's wily ways. Into Zoe's garden of dreams comes Kenny Norton, a would-be biker—currently limited to a Vespa—jangling his bunch of keys to lure her to misbehave. One single action here says much more about Zoe and her environment than all of Murphy's talk: At the bus stop, to dissuade purse snatchers, Zoe coolly examines her eye makeup in the shining blade of a straight razor.
On a bare stage, aided only by Des Kennedy's astute direction and Marianne Meadows' lighting, the two performers work hard to convince. While Mellamphy's Larry is direct and authentic, it is left to Sexton to lift the play onto more-ambitious planes, which she does with ease in a strikingly nuanced performance.

Presented by Solas Nua, Georganne Aldrich Heller, and the Flea Theater as part of the First Irish Theatre Festival at the Flea Theater, 41 White St., NYC. Sept. 12–25. Tue.–Fri., 9 p.m.; Sat., 1 and 9 p.m. (212) 352-3101, (866) 811-4111, www.theatermania.com, or www.theflea.org.