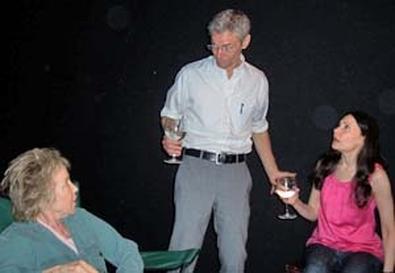 Have we forgotten what the "Fringe" in Fringe Festival means? Apparently playwright-director Timothy Scott Harris has, because there's nothing fresh, original, or offbeat in his sagging new show "Protected," about the witness protection agency in Albuquerque, N.M.
Hiding from mobsters, Langley (Jeff Paul) is peevish in the desert, annoyed by nosy neighbors Mirna (Cam Kornman) and Debra (Dee Dee Friedman), plus a female-impersonating co-worker (Matt Walker). Eventually, Langley learns how to embrace change, but not before Harris (who also directs) bores us with endless silent scenes of him puttering about his disheveled apartment and the unfunny comedy of Friedman's Debra, who peers into Langley's windows late at night to see if he's washed his dishes.
Harris has little to say about what drives one to the witness protection program or how one copes with the consequences, but he has plenty to say about cleanliness and corks. That's hardly cutting-edge, though, and definitely not worth nearly two hours of audience members' lives.
Presented by Algonquin Productions as part of the New York International Fringe Festival
at the Connelly Theater, 220 E. Fourth St., NYC. Aug. 13–27. Remaining performances: Thu., Aug. 26, 2 p.m.; Fri., Aug. 27, 2 p.m. (866) 468-7619 or www.fringenyc.org.