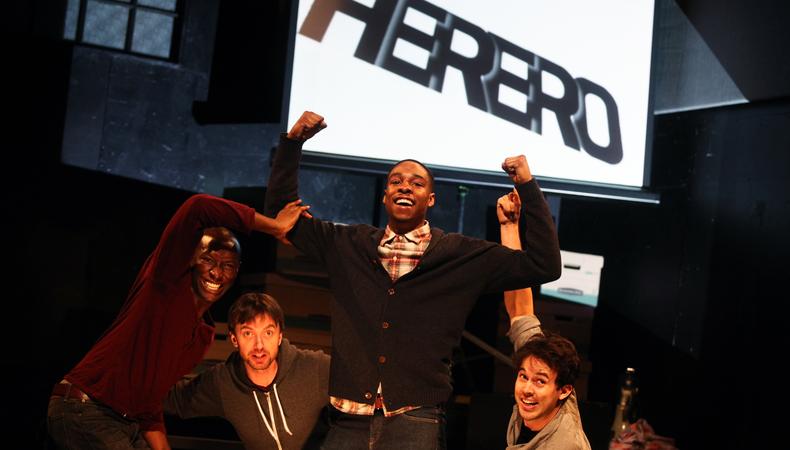 Playwright Jackie Sibblies Drury, director Eric Ting, and an ensemble of six actors start with a simple premise—a theater troupe gathering in a rehearsal studio to create a play about Germany's virtual extermination of the Herero people of Namibia in the early years of the 20th century—and utilizing powerful writing, inventive directing, and courageous acting they fashion 90 minutes of original, enlightening, pulse-pounding theater.
Currently running at Soho Rep under the jaw-breaking title "We Are Proud to Present a Presentation About the Herero of Namibia, Formerly Known as South West Africa, From the German Sudwestafrika, Between the Years 1884-1915," this fiercely intelligent work manages to be both a comic spoof of the rehearsal process and a devastating dramatization of how easy it is for human beings to do horrifying things to each other. It's absolutely thrilling.
On a stage configured like a rehearsal studio—tables in the center, notes pinned to walls—the six actors, half of them white and half black, explore the three decades of Germany's colonization of Namibia, or South West Africa, as it was known then. Actor Six, the artistic director (who is black), leads her company through a series of discussions and improvisations as they seek to understand how the Germans arrived at the decision to exterminate the Herero. They begin with Actor One (who is white) reading letters written by a German soldier to his wife, portrayed by Actor Five (who is also white). When Actor Two and Actor Four (both black) protest that there's too much emphasis being given to the Germans and not enough to the Africans, a conflict arises between the two races that mirrors the one in the play they're devising. Tensions mount as the actors dig into their characters, and the history they're detailing becomes more violent, leading to a terrifying confrontation between the white and black actors.
Drury ably renders both the rhythms of working actors and poignant moments among her fictional characters while skillfully maneuvering the plot toward its stunning climax. Ting maintains a balance between seething quiet and boisterous physicality. The actors—Erin Gann (Actor One), Grantham Coleman (Actor Two), Jimmy Davis (Actor Three), Phillip James Brannon (Actor Four), Lauren Blumenfeld (Actor Five), and Quincy Tyler Bernstine (Actor Six)—excel individually while functioning as a tight ensemble.
Mimi Lien provides a very realistic rehearsal-room set. Lenore Doxsee's lights and Chris Giarmo's sound add just the right amount of separation between the studio and the African scenes. Jon Knust should take a bow for the homely props that turn into weapons.
"We Are Proud to Present a Presentation…" is a play of ideas rather than character, but there's very little that's academic or impersonal in it. Rather, it is visceral, fiercely intelligent, and entertaining. We should be grateful to Soho Rep for showcasing this promising writer, her talented director, and their vital, important play.
Presented by Soho Rep, in association with John Adrian Selzer, at Soho Rep, 46 Walker St., NYC. Nov. 15–Dec. 9. (212) 352-3101, (866) 811-4111, www.theatermania.com, or www.sohorep.org.
Critic's Score: A