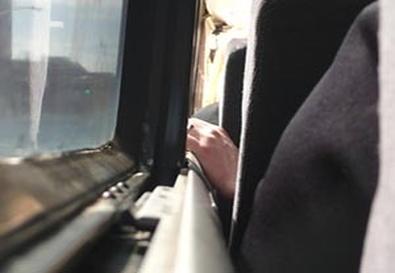 Claudia Rankine's "The Provenance of Beauty," a 90-minute bus journey across the South Bronx, created with Foundry Theatre artistic director Melanie Joseph, doesn't ask us to transport our imaginations to the sites of Rankine's youth. It takes us there physically, asking us to listen through headphones to an intensely poetic, personal narrative.
It's also a narrative overwhelmed by ambivalence. The South Bronx of Rankine's youth was that of the 1960s, '70s, and '80s—the era of "Fort Apache: The Bronx," burning buildings, crime, drugs, murder, and hopelessness. And it's still a depressed area, the nation's poorest congressional district, with obscenely high asthma rates among the young. But as the bus crosses the Willis Avenue Bridge tying Spanish Harlem to the Bronx, recollections and reflections, performed live by Sarah Nina Hayon and on recording by Raúl Castillo and Randy Danson, provide color and light to a slice of Gotham that is rapidly gentrifying. As it continues, Rankine seems to be warning us. Don't forget, she seems to say, that as something physical is saved, something intangible is lost.
The narrative also includes sightseeing information, but it's communicated saucily enough to underscore Rankine's point. There's a pretty Con Edison station "wrapped in its façade of a refurbished, restored, suburban condo." There's the vast and imposing American Banknote building, under renovation to become "the cultural and commercial hub of a revitalized Hunt's Point." There's the Vernon C. Bain Correctional Center, a foreboding floating jail in which visitors "pass through the stink emanating from the waste-treatment facility on the right and the Fulton Fish Market on the left." Abandoned streets and manufacturing spaces still abound, of course, but there are landscaped parks, thriving shops, and also the tale of La Lupe, the legendary Cuban-American singer who remains an emblem of feverish local pride.
"The Provenance of Beauty"—an evocative, ironic title—is illustrated no more convincingly than when Hayon, with a microphone in her hand, slings a bag over her shoulder and leaves the bus. This is literally a reclamation of the Bronx that has been so formidably and formally rhapsodized by Rankine's text. True, the largely white denizens of the bus may only see a pothole-riddled street, a ramp back to the Willis Avenue Bridge, or examples of the horrors they've come to know from the evening news. But to Hayon, still delivering Rankine's words into the mike as she melts into the streetscape, it is not a farewell but a greeting. For the new SoBro, like the old South Bronx, remains a facet of urban beauty.
Presented by the Foundry Theatre. Bus departs from and returns to the Elmendorf Reformed Church, 171 E. 121st St., NYC. Sept. 5–Oct. 25. Sat. and Sun., 1 and 4 p.m. (212) 352-3101, (866) 811-4111, or www.thefoundrytheatre.org.