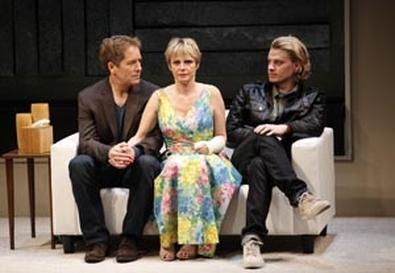 If you want an empty-headed sitcom, stay at home and watch TV or better yet download a 30-second clip of one from YouTube. Either option will give you more substance and laughs than you'll receive after forking over the money for a ticket and sitting through the 90 minutes of misery at the Cherry Lane Theatre that is "Psycho Therapy." Frank Strausser's flimsy excuse for a play features hoary humor, one-dimensional characters, and broad staging. An early press release lists Alex Lippard as director, but a search of the program at the performance attended revealed no credit for direction, which explains the uneven pacing and shrill acting. Evidently, Lippard left sometime during rehearsals or previews and a much-needed objective eye was lost.
It's really a pity, because the cast features worthy talents such as Angelica Page (the daughter of Geraldine Page and Rip Torn and a fine actor in her own right), Drama Desk nominee Jeffrey Carlson, and Obie winner Jan Leslie Harding. But when given stick figures to play even these troupers come up short. The evening begins on an unfunny note, with Page overplaying neurotic therapist Nancy's unhealthy attachments to her clients (via motherly phone conversations) and her borderline erotic attraction for chocolates. Things go downhill from there.
Nancy's first patient is Lily (Harding), a 40ish superficial former model seeking to repair her damaged connection with boyfriend Philip (Carlson), who is late for their joint session. When Philip finally arrives Lily physically attacks him, but the couple ends up practically making out on Nancy's couch. It turns out that who we thought was Philip is really Dorian, a spoiled rich kid and an ex-lover of Lily who has dropped back into her life. In true TV fashion, Dorian continues to attend therapy with Lily while pretending to be Philip. Of course, the real Philip (Laurence Lau), a sincere but commitment-phobic businessman, eventually shows up and hilarity supposedly ensues.
Even this implausible scenario could provide some honest chuckles if the relationships and motivations contained at least a scrap of truth or depth. But Strausser gives us a quartet of nasty, shallow stereotypes. We don't care what happens to these people, so we aren't invested in the humor of their situation. Broadway—and Off-Broadway—used to be filled with this kind of gimmicky, slightly naughty comedy. That was in the days when you couldn't get away with sexually suggestive material on the big or small screen, but today mere frankness about bedroom antics is not enough.
The one saving grace of this fiasco is Michael V. Moore's sleekly elegant set, which manages to accommodate multiple locations without being obvious. The author should have followed that example.
Presented by Barbara Ligeti and Wishing Well Productions at the Cherry Lane Theatre, 38 Commerce St., NYC. Feb. 7–25. Mon., Tue., Thu., and Fri., 8 p.m.; Sat. 3 and 8 p.m.; Sun., 3 and 7 p.m. (212) 352-3101, (866) 811-4111, www.theatermania.com, or www.psychotherapytheplay.com. Casting consultant: Jeffery Passero.