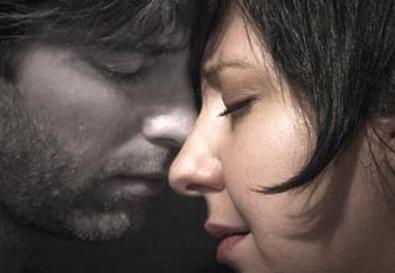 Grief is the substance of newly created voids, and where voids are concerned, losing a twin sibling is a doozy. In Jennifer Lane's "Psychomachia," such is the case for Lydia (Ashlie Atkinson), a young professor whose life, along with the lives of her family members, is shattered when her twin brother, Johnny (Kyle Groff), hangs himself, motivated by a desire to see what's on the other side. This somber and melancholic tale may be slow in the beginning and have an overly complicated plot, but the strong performances and great staging make it a profound excavation of pain.
Everyone is hemorrhaging hurt and confusion when Johnny dies, but no one bleeds like Lydia. After an uncomfortably slow birthday party, her first without Johnny, Lydia turns to flashbacks and imagined conversations with him about philosophy and psychomachia (the conflict of the soul between the spirit and the flesh). Her relationships with younger sister Charlotte (Jennifer Laine Williams) and boyfriend Ezra (John Calvin Kelly) are soon negatively affected. Not even the dissolution of Lydia's parents' 32-year marriage fazes her, as long as she has her brother's journals to enchant her into the unknown.
With projections of text and carefully inserted mood music, "Psychomachia" invites us with a curled finger into a mystical world, just as Lydia is seduced into pondering suicide. Atkinson delivers Lane's one-liners with a dry, sardonic wit that is heartbreaking given Lydia's strife. As the young woman's parents, the skillful Cynthia Mace and Frank Deal stab each other with verbal daggers even as they admonish their daughter not to do the same. Arthur French hasn't much to do as Johnny's therapist.
Though the plot ventures into déjà vu territory, the powerful acting, under Robin A. Paterson's direction, and "Donnie Darko" flavor will compensate for fans of mind-benders and heart softeners alike.
Presented by Artistic New Directions, in association with Shetler Studios & Theatres, at Theatre [email protected] Studios, 244 W. 54th St., 12th floor, NYC. Dec. 4–19. Schedule varies. (212) 868-4444 or www.smarttix.com.