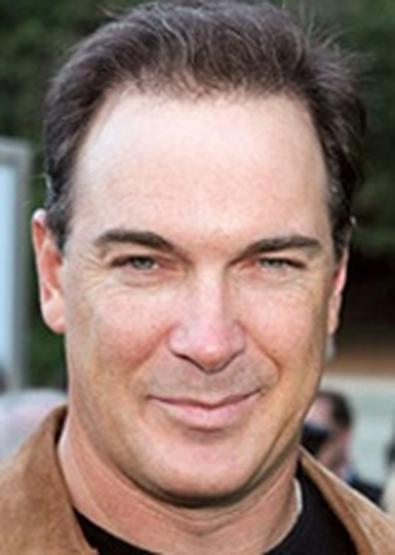 Patrick Warburton is a busy guy with a regular role on the CBS sitcom Rules of Engagement and three features coming soon to theatres. And although his face might be instantly recognizable to viewers after his two seasons on the hit show Seinfeld as David Puddy, Elaine's easygoing boyfriend, Warburton's voice is just as familiar. In addition to voicing the role of Ian in Sony's recent animated box-office hit Open Season, Warburton currently voices characters on five animated series: Family Guy, The Emperor's New School, Kim Possible, Tak and the Power of Juju, and The Venture Bros.
But there's no hint of stress in the busy Warburton's deep, laidback voice, which Filmcritic .com once called "the hardest-working vocal cords in show business." The actor's tone makes it sound like he has all the time in the world, and he's even eager for more-challenging work. "I don't want to be that actor who always does the same thing, like, 'Oh, we've seen this guy before,' " he says.
That distinctive bass coupled with chiseled good looks and a 6-foot-3 frame launched his commercial and film career, at age 19. His mother is actor Barbara Lord, who appeared in regional theatre productions and on shows such as Alfred Hitchcock Presents, Sea Hunt, and Gunsmoke and was part of his inspiration to become an actor. "When I was 13 years old, I'd hang out in the theatre a little bit with my mom when she was doing shows in Orange County. That's probably where I got bit by the bug," Warburton notes.
The actor developed that bug into acting ability at the Whitefire Theatre in Sherman Oaks, Calif., where acting coach David Beaird helped him gain confidence. "Everybody seemed to really do well and thrive at the Whitefire because David was the type of acting coach who was extremely nurturing and supportive and at the same time was extremely insightful," says the actor. "He always managed to find ways to make scenes work."
Warburton notes that Beaird's supportive approach was unlike many coaches who choose to focus on their students' weaknesses rather than their strengths. "All actors are somewhat insecure. When you've got a coach like David who focuses on the positive and helps you grow from giving you positive feedback, it helps you as a person," Warburton says. "I think he has a lot of students that work today because of it."
The actor also learned a lot about what not to do as an actor during his first film role: playing the leading man in a series of "horrible" B-movies shot in South Africa, co-starring Oliver Reed and Eartha Kitt (who also voices a character on The Emperor's New School). When asked how he got this role, he answers that he simply auditioned for it.
Raised in Huntington Beach, Calif., the surfer-handsome Warburton was ideal to play a Scottish hero sold into slavery on a 1700s Caribbean island in 1987's Dragonard and its 1989 sequel, Master of Dragonard Hill. "Reed played the villain, and I was the good guy. And Reed, although he had a pretty good buzz on almost every day on the set, is still the only watchable actor in these movies. The rest of us just pure sucked," Warburton says with a laugh. "I learned that I'll never just show up on [the] set of a film that supposedly takes place in the 16th-century islands colonized by the Brits and do no dialect whatsoever."
While his bread-and-butter jobs have been as square-jawed, if flawed, heroes—the well-meaning title character in The Tick and goofy oafs à la Puddy—he has taken on more-complex roles in acclaimed indies. He recently earned awards at the Beverly Hills Film Festival, New York VisionFest, and Boulder International Film Festival for his performance as the detestable, misogynistic title character in The Civilization of Maxwell Bright, written and directed by Beaird.
Warburton said his entrée into voiceover was a "happy accident." His first gig came when he was asked to audition for Disney's The Emperor's New Groove soon after Seinfeld went off the air in 1998. The actor says he hasn't trained specifically in voiceover acting. "You can pretty much apply anything that you know as an actor to doing voice work," he says. "The No. 1 rule is you've got to have fun with it."
That dry, deadpan tone has become a staple for Warburton, who acknowledges that many of his characters sound alike. However, he has found that agents and producers tend to prefer actors with a signature sound. "One of my buddies, he does, like, 700 different voices. He's an impersonator, and he's quite brilliant. But I couldn't get him signed with my voiceover agency," he says. "Then there's me, and I wouldn't say I'm a chameleon in that area. All of the characters aren't the same, but there is something sort of signatory about my voice. People say when they hear me do a character, they know it's me. It's worked out well for me."