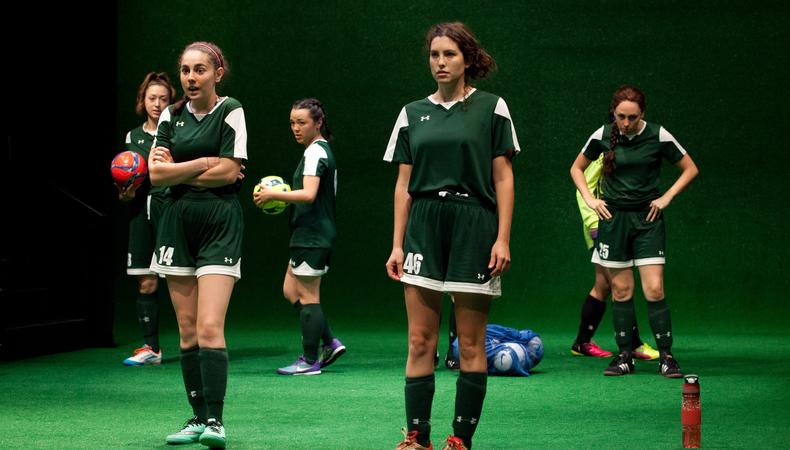 Just as its namesake building once created electricity, the Vassar & New York Stage and Film's Powerhouse Theater now creates staged work and artistic collaborations that crackle with an electricity all their own. For eight weeks every summer since 1985, Vassar College has collaborated with not-for-profit New York Stage and Film to cultivate theater-makers and their craft, giving audiences in Poughkeepsie, New York, a glimpse into the development process of plays, musicals, and screenplays.
"This audience has been watching new plays develop for 32 years," New York Stage and Film artistic director Johanna Pfaelzer told Backstage. "They're incredibly informed; they take a deservedly, deeply earned, personal interest in the work as it moves out into the world." Such work includes recent award-winning hits like Lin-Manuel Miranda's "Hamilton," Stephen Karam's "The Humans," and Steve Martin and Edie Brickell's "Bright Star," but stretches back to Sarah Ruhl's "Eurydice," "American Idiot," and the first-ever reading of John Patrick Shanley's "Doubt."
Powerhouse audiences get to see firsthand not just the growth of individual pieces, but various artists and their bodies of work, Pfaelzer added. "There are people like Josh Radnor who [audiences] first saw as an apprentice here 20 years ago and has subsequently been on our main stage multiple times. And they had the opportunity to be there with him this summer as he wrote his first play!"
Along with Radnor's "Sacred Valley," one of the many new plays in this season's two reading festivals, Vassar & New York Stage and Film's Powerhouse Theater 2016 has included full productions on the main stage—Lucy Thurber's "Transfers," directed by Jackson Gay; Sarah DeLappe's "The Wolves" (pictured above), directed by Lila Neugebauer—as well as musical workshops from Leslie Bricusse, Anthony Newley, Scott Ellis, and Santino Fontana; José Rivera, Héctor Buitrago, and Steven Cosson; and Taylor Mac and Niegel Smith.
Pfaelzer and the Powerhouse staff work to accommodate each of these artists by matching them with the appropriate collaborators, spaces, and audiences. "We really try to keep our structures flexible enough that we can be responsive in a case-by-case way," she said. "The work we do here is meeting a need these artists have." Such collaborations include actors, who can audition through EPAs each spring prior to the season.
For artists ages 17–24, however, Powerhouse's training program provides a summer of acting, playwriting, or directing with a level of immersion that is largely unparalleled. For five weeks, apprentices collaborate closely with high-profile creatives and work around the clock on productions of their own.
"They have their own curriculum, their own faculty, they do their own public performances of both classics and new work," explained Pfaelzer. "But they're also really enmeshed in the life of the professional artists who are here. For example, an apprentice playwright, in addition to writing their own work in the company of their peers, would also serve as an assistant in the rehearsal room to Stephen Karam. They meet weekly with artists-in-residence, everyone from Lucy Thurber to Bill Rauch to José Rivera. They get to go deep with people. It's completely immersive."
For more information on Vassar & New York Stage and Film's Powerhouse Theater and its apprentice programming, visit powerhouse.vassar.edu or newyorkstageandfilm.org.
Looking to help develop a new play? Check out our theater audition listings!