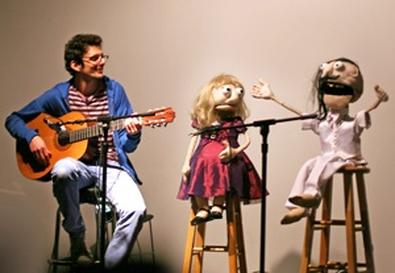 Artists are exploring technology and bringing it into their shows in new and unexpected ways, observes Elena K. Holy, producing artistic director of the 14-year-old
New York International Fringe Festival
(FringeNYC), running Aug. 13–29. She cites two standouts.
There's Ithai Benjamin's "
The Princes of Persuasion
," a solo piece boasting five performers, four of whom are robots. They're warring egos in an indie band who are sharing stories, videos, and singing their little hearts out. There is also "
Evan O'Television in Double Negatives
," with its video-ventriloquism, featuring Evan O'Sullivan holding a contentious dialogue with his recorded doppelgänger, who is trapped in a television. "They are a bitter, jaded comedy duo who has been performing for far too many years," Holy remarks. "It's hilarious."
Other notable trends in this year's festival, she continues, are burlesque, puppetry, and aerial acts—and combinations thereof. Among such offerings, she mentions "
Shine: A Burlesque Musical
" and "
Dream of the Marionettes
." Of course, some shows will be unique—and unlike anything presented at the festival—says Holy, such as "
A Gilgl Fun a Nigun (The Metamorphosis of a Melody)
," performed in Yiddish by veteran French experimental actor Rafael Goldwaser. It is a multimedia solo performance that traces a melody's journey from performer to performer as it evolves from funeral dirge to wedding march to folk song to religious hymn to popular tune. Films, still images, and lighting design are central to Goldwaser's vision.
FringeNYC is a production of the Present Company, under Holy's leadership, and is the largest multi-arts festival in North America. This year it will present 197 productions, representing 18 states and 12 countries, at 20 venues spread across Soho, Greenwich Village, and the Lower East Side. Last year the festival attracted 75,000 visitors, and the presenters have every expectation that number will be topped.
For the performers—mostly emerging but some established—the festival offers wide exposure and the chance to take their careers to the next level. It has been a launching pad for such shows as Tony winner "Urinetown," "Debbie Does Dallas," "Matt & Ben," and the current Off-Broadway engagement of "Abraham Lincoln's Big Gay Dance Party," at the Lion Theatre on Theatre Row through Sept. 5.
Undoubtedly, the competition is keen. According to Holy, there were 860 applications this year, and the selection process was daunting. "We look for innovation, vibrancy, and diversity," she says. "By innovation, we mean trying something new; vibrancy is the passion we feel from the artists. People underestimate how important that is for us. And then of course we want diversity—all kinds of projects with a range of genres, styles, and themes, from many different places." Submissions run the gamut from slick videos of full productions to scripts and storyboards. But for her the spirit of FringeNYC "is the kid from Kansas City who has written part of his first play and submits that."
Fringe festivals across the globe have all been inspired by the iconic Edinburgh International Festival, though there are variations on a theme. As in Edinburgh, artists in New York pay a participation fee ($600 here). But at Edinburgh and many other festivals, performers have to find their own venues and dole out their own monies for them. By contrast, at FringeNYC theaters, insurance, staff, box office, and marketing are all provided by the festival. Still, the participants have to cast their shows, hire their directors, track down rehearsal space, and arrange for their own housing. "We are presenters but not producers," Holy points out. "Still, it's the cheapest way to get shown in Manhattan, and that's very rare these days."
Taking a Major Step
Cass King and John Woods—aka the Wet Spots, the creative team behind "Shine: A Burlesque Musical"—agree wholeheartedly. For them, "New York is the mecca," says King. "And just knowing we had been accepted into the Fringe gave us a direction: creating a show that could be brought to New York." The production has already enjoyed a successful run in Seattle and Vancouver, where it won a Vancouver Ovation Award for outstanding new work.
Best known as a comedy cabaret duo that celebrates sexuality, King and Woods have performed in clubs throughout the world. They are now moving in a new direction with their first book musical, which is inspired by burlesque and variety performers they've encountered on their global journeys. "Shine" is a comic, hip-swiveling, shimmying show about a legendary burlesque company and its lovable clan of outsiders who attempt to save its theater from demolition. But, Woods emphasizes, the burlesque house in "Shine" is a stand-in for all the downtown arts houses in North America forced to move elsewhere or close shop altogether because of gentrification. Still, it's no coincidence that the piece is set in New York, and for added authenticity, New York burlesque performers are being cast in some of the roles.
"Dream of the Marionettes (Le Rêve des Marionettes)," another homegrown burlesque-inspired musical (this one with puppets), is being reconceived for its New York debut—but not too much. The creators view the show as an expression of regional pride. Creative team Johanna Divine, Daniel Coolik, and Christy Leichty, together with the production's conglomeration of actors, dancers, singers, and musicians, all hail from southwest Louisiana. For them the festival is an opportunity "to show people outside southwest Louisiana what we've got to offer," says Divine. This lively piece recounts what happens when an abusive puppet master loses control and the marionettes—many of whom are into gender-bending and S&M—take over. Says Leichty, "It's fun, funny, and bawdy."
O'Sullivan, the Boston-based mastermind behind "Evan O'Television," who has performed his shtick at nightspots in New York and New England, admits frankly that bringing his show to the festival represents a whole different level for opportunity and failure. He will be introducing new elements into his act, such as interviewing a celebrity guest—though he won't say who—via satellite. Whether he or his mean-spirited boxed double will conduct the interview is the source of comic contention. "I'm not sure it will turn out for the best," O'Sullivan says. Still, having the chance to perform at the festival is "an end in itself."
Benjamin echoes the sentiment. Mounting "Princes of Persuasion"—a show that marries music, puppetry, and electronics—at the Fringe is a major step, he says. The piece was substantially fleshed out for the festival. "This production is one hour; before, it was 20 minutes," he says. "Previously I had two puppets; now there are four. This time I have 12 songs. In earlier shows it was four or five."
Goldwaser has also rethought his show for the Fringe—but not because he wanted to. The internationally known experimental actor—who spent 25 years with Habima, the National Theatre of Israel, and is currently the artistic director of
Le Théâtre en l'Air
(Der LufTeater) in Strasbourg, France—looked forward to making his U.S. debut with his piece intact. He describes the work as a theatrical breakthrough, combining the Yiddish language with modern narrative styles and techniques, including multimedia.
"Usually, Yiddish theater is identified with references to the Poland and Russian shtetl," he says. "It's nostalgic. But I don't believe nostalgia is good for Yiddish culture, because that means it's going back." Goldwaser, who has a large non-Jewish audience for his theater in France and is hopeful he can generate interest among Jews and non-Jews alike in New York, is concerned because the complicated videos and lighting that are inherent to his piece require a minimum of two to three days for installation. The luxury of time does not exist at the festival, where shows have to move in and out of theaters quickly. "Of course, we had to change the tmaterial, and it hurts," he says. "It won't be as good as it could be."
Step Two
Still, Goldwaser views the FringeNYC as a springboard for important contacts. He admits a good review from a major New York paper has great traction in France, especially among those institutions that underwrite his work. Exposure in the Big Apple might also lead to invitations from other festivals.
Benjamin sees the event as a possible conduit to "The Princes of Persuasion" enjoying an Off-Broadway run. That's also Divine and Leichty's hope for "Dream of the Marionettes." Divine is interested in forging a career in writing musical theater and hopes the festival can open those doors for her.
King says, "We'd love to get 'Shine' into a late-night, sit-down Off-Broadway run and keep it there for a while. If that happened, we'd have special guests and a rotating cast."
Like the others, O'Sullivan sees the festival as a doorway to more performances of his show in New York and elsewhere, writing opportunities, and, if the stars are aligned, landing an agent. He quips, only half-kidding, "The trajectory of my career is that I've been moving aggressively towards obscurity. This is a last-ditch effort to move out of it." He just might.