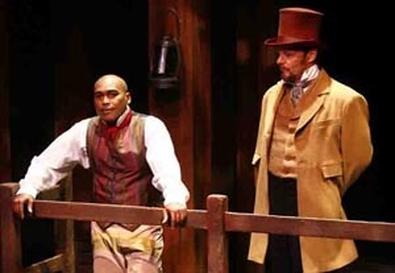 With an African-American in the White House striving to lead the United States through troubled times, the arrival of Carlyle Brown's
Pure Confidence
in New York is propitious and timely. This 2005 play has already been presented by several prestigious regional theaters, and this splendid production comes from Minneapolis' Mixed Blood Theatre as a part of the initial Americas Off Broadway festival. The play takes us to the South of 1861 where a black jockey can be a household name yet still be a slave. While conjuring up convincingly colorful characters, Brown uses this little known aspect of African-American history to profoundly re-examine slavery, the contradictory relationships it created, and the notion of freedom.
The first act might be subtitled "Freedom—The Aspiration." Simon Cato (Gavin Lawrence) is slave to and jockey for the seemingly enlightened Colonel Wiley Johnson (Chris Mulkey) and his wife, Mattie (Karen Landry). Simon is lent out to Johnson's archrival, George Dewitt (Mark Sieve), a Southerner of the old school. With continued wins, hardheaded Simon sees the chance of earning enough money to buy his freedom. He envisions himself with Mattie's slave, Caroline (Christiana Clark), and after an amusing wooing, they marry. Following a series of successes in the South, Simon and Caroline are with the Colonel and Mattie in Saratoga, N.Y., when the Civil War breaks out.
The second act, which might be subtitled "Freedom—The Resignation," takes place 16 years later in the lobby of a Saratoga hotel where Simon, the Colonel, Mattie, and Caroline meet again. Freedom is appraised once more with Simon making his final assessment on the subject: "The only time you're ever really free is when you get a chance to choose."
The two acts are widely different in tone; the first is buoyant with hope and promise, the second heavy with resignation and melancholy. Brown leaves the play open-ended, and director Marion McClinton, whose authoritative hand is evident throughout, creates a minuet of great charm for Simon and Caroline as the final image. The cast, led by Lawrence's superbly alive Simon, is strong throughout, especially the two female characters. Landry makes for a wise, if self-serving, Mattie, and Clark's Caroline grows in stature before our eyes.
The title
Pure Confidence
refers to a beloved, pedigreed horse. This compelling play also has a pedigree that proclaims it as a piece of important theater.
Presented by 59E59 Theaters and the Mixed Blood Theatre as part of Americas Off Broadwayat 59E59 Theaters, 59 E. 59th St
.,
NYC
.
May 27
–
July 3. Tue
.,
7 p.m
.;
Wed
.–
Fri
.,
8 p.m
.;
Sat
.,
2 and 8 p.m
.;
Sun
.,
2 and 7 p.m
. (
Additional performance Wed
.,
July 1
,
2 p.m.)
(
212
)
279-4200 or www.ticketcentral.com
.