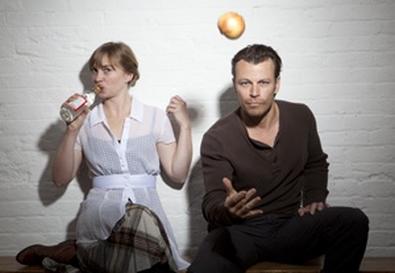 Shocking violence and the desperate choices that lead to it are the focus of Finnish-Estonian playwright Sofi Oksanen's "Purge," an exhausting, ghoulishly dark work about surviving in turbulent times. The play, which Oksanen subsequently turned into an award-winning novel, chronicles Estonia's bleak circumstances in the years after the collapse of the Soviet Union. Eva Buchwald's curt translation never flinches in this regard, but La MaMa's uneven production, directed by Zishan Ugurlu, feels too shoddily staged for the script's impact to register fully.
Set in the 1990s, the narrative centers on the life and home of Aliide Truu, with frequent flashbacks to the Soviet occupation of Estonia in the late 1940s. The elderly Aliide, played with weathered intensity by Jillian Lindig, finds a brutalized victim of Estonia's sex-trafficking trade in her front yard. This young woman, Zara, acted vigorously by Larisa Polonsky, needs help to leave the country before two Russian mafia goons track her down. She also shares a link to Aliide's own regrettable past. It seems that the young Aliide, played less than convincingly by Maren Bush, sold her sister and niece out as "enemies of the people" during the Soviet occupation, only to fall in love with her revolutionary brother-in-law, despite being married to a brusque Soviet official. Scenes of grotesque sexual violence punctuate the script, such as the jarringly brutal rape of the young Aliide by Soviet soldiers in the play's first moments, but Ugurlu rarely stages them to maximum effect.
Though the play is primarily set in Aliide's kitchen, Ugurlu, who also designed the set, puts the action atop a bizarrely abstract collection of unfinished wood ramps and inclines, calling to mind an urban skate park more than a rural home. This leads to many oddly distracting stage movements, including characters casually walking in an area previously established as a kitchen counter. Unfortunately, watching the performers laboriously navigate this treacherous construction prevents full immersion in Oksanen's weighty story at every turn.
Presented by and at La MaMa ETC, 74A E. Fourth St., NYC. Feb 11–20. Thu.–Sat., 8 p.m.; Sun., 2:30 p.m. (Additional performance Sat., Feb. 19, 2:30 p.m.) (212) 352-3101, (866) 811-4111, (212) 475-7710, www.theatermania.com, or www.lamama.org.