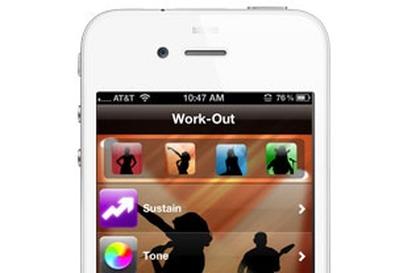 What It Is
Liz Caplan Studios iOS and Android Apps
What It Does
Lets your phone or tablet provide vocal reinforcement.
Where to Buy It
Apple App Store
What It Costs
$2.99-$4.99
When I first moved to New York and asked an industry friend about singing classes, his answer was instant and emphatic:
Liz Caplan
. She was then, as now, the voice teacher to the stars, with students as diverse and luminous as Neil Patrick Harris, Allison Janney, Megan Hilty, Cheyenne Jackson, and countless others. But she was also then, as now, a premium talent at a premium price too steep for all but the most consistently working actors. Factor in the impossibility of seeing her every week, and you may be discouraged even before your first lesson.
That's a big part of the appeal of Caplan's apps for the iPhone, iPad, and Android devices. You always have instant access to her advice and exercises, letting you keep your voice (and, equally important, your attitude) in shape wherever you are, whenever you have the time.
The selection ranges from Vocal Coach ($2.99), which focuses on one specific style of singing (Musical Theater, Country, Pop/R&B, or Rock/Blues), to Vocal Toolkit ($4.99), which combines all four. The apps also contain physical and vocal warm-ups, the latter in audition, recording, and performance flavors. (Both male and female versions are available.) Also included are drills for increasing vocal power, sustaining ability, improving tone, singing through congestion, and fine-tuning pitch. There are even detailed written explanations on topics like what you should wear for maximum vocal freedom and what you should eat beforehand.
I tested Vocal Coach and Vocal Toolkit (a third, Singing for Dancers, is also available for $4.99), and found them a pleasure to use. Their colorful designs, easy-to-navigate interfaces, and well-produced audio and video clips give them a slick, professional look, and they're packed with handy-to-remember information for numerous singing scenarios.
Most of it, however, will probably not be new to you. As these are general-purpose apps that were designed to provide Caplan's students with her techniques and encouragement while on the road, they can't come close to replacing the tools and training you'll get (and likely have already gotten) from your other acting, singing, and movement classes. They're top notch for helping you maintain the skills you already possess until you can have your next in-person lesson with the instructor who best knows you and your unique challenges. But for developing new skills and taking your talent to the next level, there's still no electronic substitute for a living, breathing, understanding teacher.