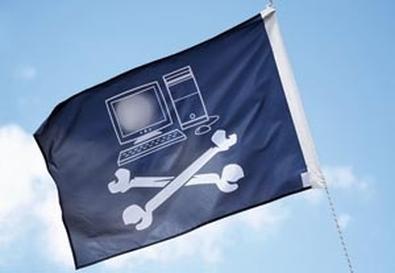 When a federal grand jury indicted five founders of the website
NinjaVideo.net
, it marked the most recent instance of the federal government getting tough on Internet piracy. NinjaVideo offered users unlimited illegal downloads of films and television shows in exchange for a $25 subscription fee. The site reportedly drew millions of visitors between 2008 and 2010, when it was shuttered by the feds. The announcement of the indictment, made last week by U.S. Immigration and Customs Enforcement, was greeted warmly by the entertainment industry.
"This NinjaVideo prosecution is precedent-setting, in the sense that this is the first time that the Department of Justice and a federal law enforcement agency have undertaken the prosecution and investigation of a website that offers high-quality [unlawful] download and streaming experience for its users," said Kevin Suh, senior vice president of content protection, Internet, for the
Motion Picture Association of America
. "It's fantastic, and we're very excited about what's happened."
The MPAA and others on the industry side have had plenty to be excited about on the anti-piracy front lately. Last winter, Immigration and Customs Enforcement announced that it had seized 82 domain names belonging to websites that trafficked in copyright-infringing products, ranging from sportswear to DVDs. Then in May, Sen. Patrick Leahy, D-Vt., introduced the Protect IP Act, which would expand the U.S. Department of Justice's ability to shut down websites "dedicated to infringing activities." (The bill promptly had a hold placed on it by Sen. Ron Wyden, D-Ore., but still enjoys broad bipartisan support and is by no means dead.)
Meanwhile, the industry has been busy doing its part. In July, the MPAA, the Screen Actors Guild, and the American Federation of Television and Radio Artists joined other industry players to launch
Creative America
, an initiative aimed at raising content-piracy awareness in the working artist community and beyond. Those organizations were also key to the resuscitation this summer of the Treaty for the Protection of Audiovisual Performances, an international anti-piracy agreement that was hailed by Javier Bardem and others at a July conference in Geneva as an actors' rights treaty.
For those in the industry—both employees and employers—who see piracy as an existential threat, it's been a busy year.
Cracking Down
Nancy Fox, SAG's national director of government relations and policy, credits the Obama administration with helping to turn content piracy into a front-burner issue. "The office that Victoria Espinel heads was created under this administration," Fox said, referring to the U.S. intellectual property enforcement coordinator. "While we certainly did see interest in the previous administration, it has stepped up enormously with this administration. There is a real clear commitment of resources."
That commitment of resources has drawn praise but also criticism. When Immigration and Customs Enforcement announced last winter's website seizure, civil liberties organizations such as the Electronic Frontier Foundation characterized the move as overreaching. The Protect IP Act, presumed to have White House support, has faced a growing chorus of opponents, from Google to the New York Times editorial board. Last week, more than 100 tech entrepreneurs—among them LinkedIn co-founder Reid Hoffman and former Twitter chief executive Evan Williams—sent a letter to Congress condemning the legislation, writing, "While the bill will create uncertainty for many legitimate businesses and in turn undermine innovation and creativity on those services, the dedicated pirates who use and operate 'rogue' sites will simply migrate to platforms that conceal their activities."
Fox, however, dismissed such criticism. "Stealing is stealing," she said. "We don't feel like any of these laws are particularly burdensome on people. Don't steal other people's work."
Actor Impact
Fox asserted that the theft of work through illegal distribution online has a real impact on performers. (Creative America regularly cites a 2006 study by the
Institute for Policy Innovation
claiming that film piracy cost more than 140,000 jobs and $20 billion the year prior, though hard stats on the costs of piracy are notoriously difficult to come by.) Not surprisingly, Tom Carpenter, general counsel and director of legislative affairs for AFTRA, expressed a similar sentiment.
"The way performers are paid really relies on a compensation model that's tied to downstream revenue," Carpenter said. "Whenever a television show is stolen online, people aren't just stealing a TV show; they're stealing the health-care contributions and the retirement benefits and the wages of performers, because everything stolen isn't sold."
For Carpenter, keeping members' work from being stolen means that tough actions, like those taken against NinjaVideo, are essential. "When ICE acts, they're enforcing the law and executing warrants," he said. "There's no violation of due process here, and you don't have a First Amendment right to steal health care from performers."