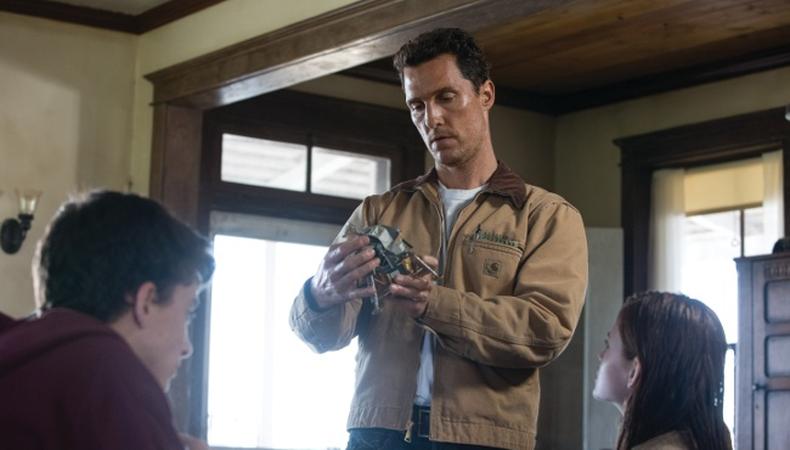 John Papsidera has collaborated often enough with Christopher Nolan to be familiar with the shrewd intricacies of the filmmaker's writing. "I'm always dazzled when I read the scripts—from 'Memento' on—by how intelligent and puzzlelike Chris' films are," says the casting director. "I've learned over the years that if I just keep going through the script, eventually it will catch up with me."
Uncovering the story's many interlocking gems is a technique Papsidera incorporates into his own work. "Like his writing, I think we approach casting in a very puzzlelike way," he muses. The overall tone and feel of a Nolan movie is important to both director and casting director. "You start with certain pieces and then ultimately you want to create a perfect, big, jigsaw puzzle of a piece. They all interrelate." From the moment he finishes going over the script, Papsidera begins meeting with Nolan to discuss "characters and what's on the page and how he sees it, and me matching souls to that."
"Matching souls" is an excellent description of the collaborators' process. In "Interstellar," Nolan's resplendent space odyssey, Papsidera detected an almost Western vibe; although the story centers on a futuristic journey through a wormhole, there were undertones of the great frontier. Even before his awards season whirlwind last year, Matthew McConaughey fit Nolan's conception of the lead character. "He has a very obviously cowboy quality to him," says Papsidera. "There was something so Americana about his role."
McConaughey and Anne Hathaway embodied the director's vision for the intrepid space scientists, but the story also required two actors—one older, one younger—who could carry the film's emotional weight. Papsidera first met Jessica Chastain years ago, and knew her versatility would lend itself well to the role of McConaughey's adult daughter. The search for her younger self led them to Mackenzie Foy, who Papsidera calls "magnificent" in both her audition and the final product. When looking for child actors, he is drawn to an ability to emote fully and credibly, a heartfelt vulnerability balanced with the utmost professionalism. "I'm thrilled with Mackenzie; she's a pro. She really pops out of the film.
"It's a little bit uncanny how close she and Jessica feel in the movie," he continues. "They cut back and forth between them and I buy it. I can be a little bit fanatic about trying to match ages." For Papsidera, pairing older and younger actors is a matter of distilling both performers' essence: a commonality not just of behavior and appearance, but a similar energy that can often be found in the eyes. The art of matching souls is a deceptive one.
Despite its attention to scientific jargon, Papsidera says Nolan's latest work is his most touching to date. "I'm really proud of the film," he adds. As in their previous collaborations, they found actors who could pull at an audience's heartstrings and provide a sweeping sense of emotional unity. "I cried two or three times."
Inspired by this post? Check out our film audition listings!