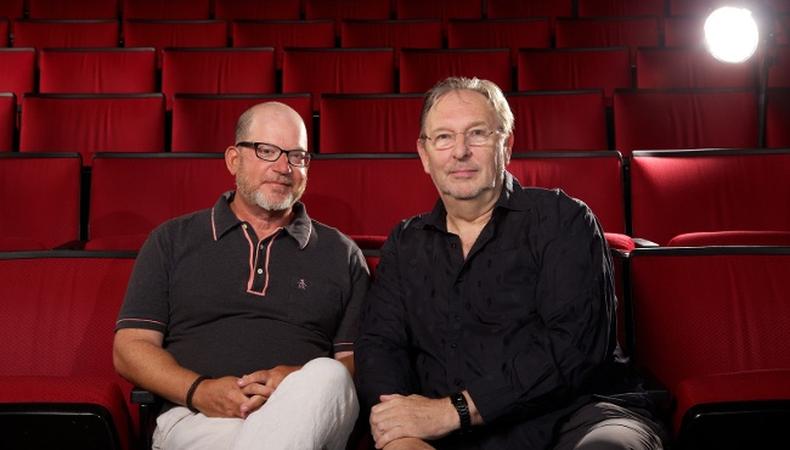 Mark Wing-Davey and Laurence Maslon head up the graduate acting program at New York University. Wing-Davey is a legend of experimental theater, while Maslon is a musical theater scholar and Broadway devotee. Together they lead the 16 students of the grad program (chosen from a pool of 800), giving them practical skills in an ideal theater setting.
What is it about working in this program that keeps you there?
Mark Wing-Davey: It's a progressive institution. I wanted to work with actors I think will make a difference. The program feels forward-looking, not scared of what the future might hold.
Laurence Maslon: We do everything from 16 to 22 showcases a year; that's double almost any other theater. It's done with young actors who I think are the best. We get adventuresome actors. I know Mark hates the word "artist," but they create their own work. It is important for someone to come in and rebuild the pedagogy for the 21st century. It's not just to be technically trained, but to do great work on film and television, work as a collaborator on new work. You could drop them down in a movie or in a musical or a webisode or a Labyrinth show and they could do equally well.
What's the curriculum like?
MWD: It's a mix of the utopian and the pragmatic.
LM: There are certain methods of approaching another culture that keep appearing in the canon. There's Shakespeare and Chekhov, but also August Wilson and Brecht, so they get a full sampling of what they'll see professionally; this way, Brecht doesn't scare them. They have arrows in their quiver.
MWD: I'm also proud we do two new plays a year. So this year, I'm directing a Sarah Ruhl play, and there's another by Christina Anderson. The actors are very much part of the initial steps of that process.
LM: Mark tries to tap playwrights who are beyond emerging.
MWD: The other thing they do is this thing called Free Play, where they create their own work. From that, many pieces have sprung that are unforeseen for them as well.
What do you look for in prospective students?
MWD: We don't look for people to be perfect. You're not going to get into the program if you deliver iambic pentameter better than everyone else. I look for the 30 seconds where that person is completely alive. I look for them to be empathetic producers. That particular thing, [when] you feel a warmth to them, is quite hard to teach.
What's your advice for aspiring actors?
LM: Apply to our program!
MWD: Don't start too early. Live a life.
LM: If there's something you love, like Clifford Odets or Shakespeare, nurture that.
Like this post? Check out more of our Inside Jobs!