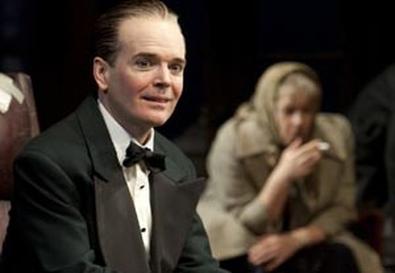 Everybody knows someone like St. John Quartermaine, the likable, slightly cipherlike chap you can depend on to baby-sit, fill out a dinner party, or lend a shoulder to cry on. But when you don't need him, he conveniently vanishes into the woodwork. Simon Gray's touching and incisive 1981 play examines this easygoing, nondescript friend of all as life whirls and changes around him.

Quartermaine, a second-rate teacher at a Cambridge school for foreign students, is eager to share a joke or a cup of tea yet remains blissfully detached from the real crises in the lives of his unhappy colleagues. The instructors don't really listen to each other, despite their claims of being a family. "Quartermaine's Terms" was a hit in London and had a long run Off-Broadway. Its seven roles provide juicy opportunities for both dry comedy and affecting drama, so it's a natural choice for regional productions. The difficulty is that the main character is essentially a nonentity, so the action could easily become as uninvolving as a bad production of Chekhov.

Director Maria Aitken overcomes this trap with a vibrant staging that balances Gray's cynical observations of the selfishness of his characters with tender sympathy for their foibles. Jefferson Mays provides the show's emotional core with his sterling delivery of Quartermaine's eagerness to please and infuriating cluelessness. Mays manages to make a bland man interesting.

The remainder of the company is equally dexterous at limning these obtuse academics, who are each Quartermaines in their own way: They are all disconnected from the world around them to one degree or another. Particularly affecting are Ann Dowd as the spinsterish Melanie, who is being suffocated by her invalid mother, and John Horton as the kindly co-principal, constantly just missing his never-seen partner. Jeremy Beck is a riot as the accident-prone Derek. Simon Jones brings a fumbling humanity to stiff-upper-lip Henry. Morgan Hallett and Stephen Kunken round out the admirable ensemble. In a clever touch, Aitken casts members of the Williamstown Theatre Festival's apprentice company as students. Their voices ring out in laughter as they play croquet and tennis offstage, in contrast to the muddled lives depicted onstage.

Derek McLane designed the handsome set, and Martin Pakledinaz did the subtle costumes.

Presented by and at the Williamstown Theatre Festival,
Main Stage, 1000 Main St., Williamstown, Mass.
Aug. 12–23. Tue.–Fri., 8 p.m.; Thu., 3 p.m.; Sat., 4 and 8:30 p.m.; Sun., 2 p.m.
(413) 597-3400 or www.wtfestival.org.

Casting by Jay Binder/Jack Bowdan.