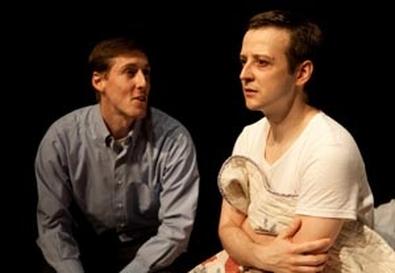 The prolific playwright Mario Fratti, 83, has grouped four of his short plays together as "Quartet," all of which are being promoted as having gay themes, and each of which ends with a twist. The biggest twist, however, is how little insight any of them offer into contemporary gay life.
In "A.I.D.S.," a man visits his lover in the hospital. Their friends are dying around them, and Evan (Jason Beaubien) tells Otto (Paul Caiola) what the doctors have just told him: Otto has eight months more to live, which in the context is a long time—too long from the hospital's point of view, as it must pay for his stay. We eventually learn (spoiler alert) that the hospital is offering Otto $20,000 if he will kill himself, thus saving the institution the expense of caring for him. Although the script has a copyright of "1997Ð2007" and sets the scene as "today, in New York," the scenario of Fratti's play—even if you accept the surreal ending as pointed commentary—only makes any kind of sense for the early years of the AIDS pandemic, more than two decades ago, when HIV was an automatic death sentence.
Yet "A.I.D.S." is arguably the most informed of the four plays in "Quartet," written by a man who is trying out a new subject. To the extent that the plays of "Quartet" can be appreciated, it is for their little surprises, O. Henry
–
like vignettes rather than realistic character studies.
"Actors" is an unusual love triangle between a father (Wayne Maugans), his grown daughter (Sarah-Doe Osborne), and an actor whom the father introduced to the daughter and with whom she is in a relationship. As the play begins, the daughter has just seen the actor (Kenneth W. Ziegler) give a convincing performance as a gay character with a penchant for sadomasochism, which makes her question the sincerity of his love for her.
"Dina and Alba" revolves around a triangle. Dina (Jennifer Laine Williams) tells her partner, Alba (Melanie Rose Wilson), that she has run into a former male lover, who wants to have a threesome with them. She also gives Alba her gun.
"The Piggy Bank" shows an encounter between an unusually carefree and beautiful prostitute (in a standout performance by Victoria Watson) and her client, whom she charges only $25; we find out why by the end. It is the cleverest of the four plays, and it has absolutely nothing to do with gay life, gay characters, or a gay theme.
Presented by and at Theater for the New City, 155 First Ave., NYC. June 5–19. Thu.–Sat., 8 p.m.; Sun., 3 p.m. (212) 868-4444 or www.smarttix.com.