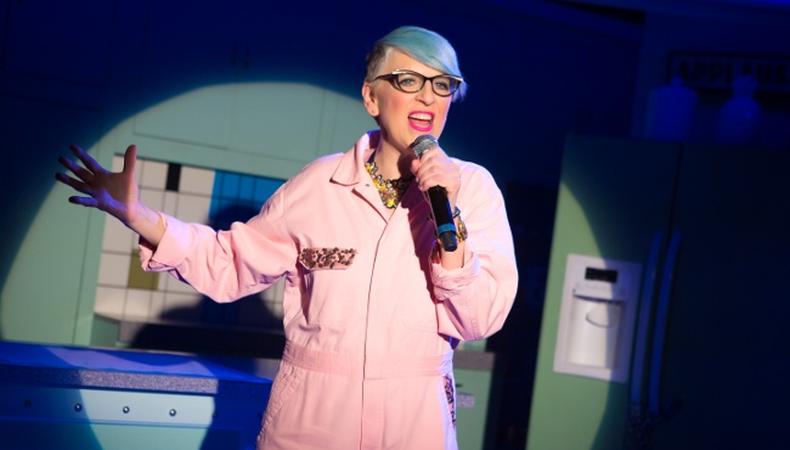 To be a comic, you have to be fearless, and if one word has defined Lisa Lampanelli's career as an insult comic and lovable Queen of Mean, it may well be that. It's fearlessness that led Lampanelli to her first foray into New York theater with the semiautobiographical "Stuffed" at the Westside Theatre, which she wrote and stars in. Leading up to the play's final weeks in New York City (it closes Nov. 19), Lampanelli sat with Backstage Oct. 31 to offer some incisive and vital tough love for actors and comics alike.
Write truthfully without forcing it.
"[When writing autobiographically,] don't ever negate material you might not think is that relatable or important. Even if it's something only you've gone through—or you think only you've gone through—someone else will relate.... The audience will find you. [Write] whatever is unique to you, without forcing it."
Standup comedy requires unerring dedication.
"I'm gonna tell comics something. Potential comics: If you aren't willing to be up there every night… Comics can be little bitches. They can be like, 'Oh, I only will work an hour a day.' No! It's called 24/7. It's observing, it's taking notes on what bothers you, it's really being dedicated.... You've gotta get up there, and it's relentless. You're gonna have seven, eight years where you don't make a dime. Louis Black said it best: He started at 18 years old, and he did not become a success until 50. That's hanging in there. So you've just got to be resilient. If this is your talent, you have to not quit. But if you're not willing to sleep in your car because you don't have money, then you're not a real comic."
Spontaneity onstage is better than sticking to a script.
"I'm 100 percent onstage, meaning I never sit at a computer and say, 'Oh, this is my writing time!' Ugh, please, kill yourself. Here's who I am: I'm an insult comic, so what I do is figure out what bugs me…and just talk about it onstage. I tape record every show and I go, 'Oh, that thing I said for the first time, let me see how I can punch that up and make it a bit so it always looks spontaneous.' I just love that spontaneity. Onstage, things come out that just wouldn't come out if you were sitting there [typing]."
Pursue what interests you.
"You do what you're interested in. I say this: If you really have a dream, don't be the loser with a dream. To me, a loser with a dream is someone who pursues what they think other people did and try to do it. Yes, take advice and take clues from people, but go with what's in your gut and what you know is going to interest you and you'll talk compellingly about it.... These are the kinds of things that just make your career soar. And also, if you're looking forward to doing it, you know you're supposed to be doing it."
Ask yourself one question.
"This is Lisa Lampanelli's advice and it always works: What's the worst thing that could happen? Say you get up there at an open mic—you forget every joke. It's, like, 12 people there. You go, 'I've been embarrassed, I'm ashamed.' Guess what? It's happened to 8,000 people. There's a comic I know who fainted onstage; now he laughs about it. I remember a guy who pooped his pants! That's probably the worst that could happen, but you move ahead anyway. If I had a pooped-my-pants story, you damn well know that'd be my whole next comedy special."
Want to act in New York City? Check out Backstage's New York City audition listings!