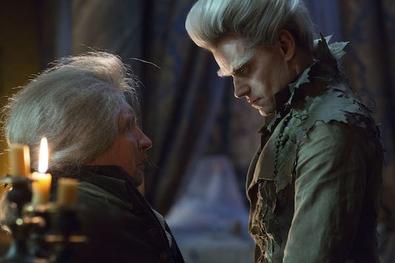 Known for his work on "Doctor Who" and "Sherlock," Toby Haynes is an actor's director. "I like to talk a lot to [actors] and listen to what they're doing and what they want to do with it and not try and impose an idea onto them," he explains. "The biggest decision for any project is who's going to be in your cast, and then once those decisions have been made...I'm a very trusting director."
His most recent project will have him trusting a new set of performers—including U.K. TV star Marc Warren, Bertie Carvel ("Les Misérables"), Eddie Marsan ("Ray Donovan"), and others—to bring to life the magical world of "Jonathan Strange & Mr. Norrell," premiering on BBC America June 13. The seven-part drama centers on those trying to bring magic back to England during the Napoleonic Wars.
We sat down with Haynes to chat about his fascination that started with the book by Susanna Clarke; his approach to auditions; and the one question he asks his actors to put everyone on the same page.
On his journey to "Jonathan Strange & Mr. Norrell."
When he first read the best-selling book, Haynes was still relatively unknown, and the novel's adapters were considering a major film production company to take over. So when Haynes called to inquire about getting on the project, his agent "suppressed a laugh," he says.
"They were developing it with New Line and they'd just done 'Lord of the Rings,' so they were looking at some hotshot directors. And the idea of me doing it was a bit of a joke, really." But after "Doctor Who" and "Sherlock" became such phenomena, the English helmer was in the running to create for television what he calls very relatable characters in a fantastical world.
The TV format allowed him to draw out the intricacies of the story, and he worked closely with screenwriter Peter Harness and book writer Clarke, to bring the many layers of the show to the screen. Clarke's biggest piece of advice? " 'Never work with magicians,' because she found them to be very selfish and arrogant human beings and they'll never thank you for the work you've put in," says Haynes, with a laugh.
On the qualities he most appreciates in his actors.
"With this project the qualities I needed were imagination and focus and a great sense of character so they knew where they were going," he explains. "We had to shoot it in all sorts of order so where they were in their stories was really important. A lot of discussion would go on about what they knew and didn't know, then we could really focus on getting the best out of this one particular moment."
While he needed his cast to be intimate with the script, he wasn't rigid and kept himself open to surprises, like unexpected jokes between characters, on set. "I'm the kind of director where I know you have to have a strong enough vision up front to get it off the ground and get everyone working in the same direction, but you also have to have a flexibility and spontaneity to allow things to develop."
On keeping his actors in the right emotional place.
Working with a relatively large cast across three countries and two continents means Haynes had to be focused and dedicated while directing the show's seven parts. "[Directing is] about creating the atmosphere where [actors] can do their best work—things like making sure the set doesn't become too rowdy during an emotional scene, or eliminating distracting elements," he says. "The other thing is to engage questions.... The most important question you can ask an actor is, 'What are you doing right now? What's your character doing right now?' That question opens up all you need to. It's about motivation and that's where you'll find why you're not getting what you want; that's where you'll find the difference between what you saw [in your director's vision] and what they're doing."
On the audition process.
When Warren came in to audition for the part of The Gentleman, Haynes says it was completely unexpected. "He doesn't really like to come in and read," Haynes says of the established actor. "But I like to have everyone read and audition. I don't like doing offers just like that.
"He did the audition and was just mesmerizing. It was supposed to be only a 20-minute audition and I had him in for an hour and a half.... He even wrote a spell and a sigil that he had in his pocket that he showed me. So that paid off!"
Haynes says he feels for all the actors who walk into his audition room. "Sometimes no matter how good an actor you are, you're just not right for the role. And other times you can surprise me because you've got something else [I didn't expect]. So you have to go to every audition gunning for it, prepared to work hard."


Inspired by this post? Check out our television audition listings!