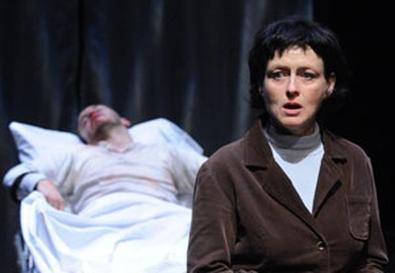 I always regretted missing David Rabe's "A Question of Mercy" when it debuted at New York Theatre Workshop in 1997, so I was pleased to hear that Potomac Theatre Project would be including the play in its summer season at Atlantic Stage 2. Based on the journal of Dr. Richard Selzer, it tells the story of a doctor's involvement in trying to help a young man dying of AIDS end his life in a safe, responsible way, rather than continue experiencing the physical suffering he finds unendurable. Rabe's play is passionate, thoughtful, and disturbing, though somewhat unwieldy, and PTP/NYC struggles with it in an uneven production.

"Question" begins as a hesitant dance started by a phone call. Thomas, an attractive but nervous man in his 30s, wants to meet with Dr. Chapman. They recently met at a fundraiser, and Thomas feels that Chapman might be sympathetic to his problem, which he doesn't name. Chapman, who doesn't practice medicine anymore, agrees, though somewhat warily. Thomas, it turns out, wants Chapman to "intervene" on behalf of "a dear friend" with AIDS. The doctor declines and summarily leaves. But soon there is another phone call, in which Thomas, forced by his longtime lover, Anthony, is much more explicit. Still, it's only when Anthony gets on the phone that Chapman agrees to meet with the two men. One of Rabe's problems is that the decision doesn't seem sufficiently motivated; the doctor's resistance melts too easily. But once that meeting happens, Chapman starts down a thorny path from which there's no turning back.

Rabe works hard to elevate his play above a hot-button-issue drama through heightened, often poetic language; symbolic imagery; and lots of philosophical musing. Generally he succeeds, but there are times when patience ebbs, and one gets the sense that Jim Petosa's direction doesn't always help things along, lingering in the wrong places and exacerbating the play's self-indulgence.

For the most part, there's good work from the actors. Paula Langton is an interesting choice for Chapman, as the role was originally written as a man. But Langton is a real asset: lucid, focused, vulnerable, and empathic. I don't know, of course, how the script plays with a man in the role, but making Chapman female definitely sounds undertones of dominating men exploiting a woman's more compassionate nature. Tim Spears does yeoman's work as Anthony, whose deteriorating physical condition is front and center all night. Spears excels at suggesting the high-spirited, magnetically attractive young man Anthony once was, making his current state all the more upsetting. Alex Crammer's quiet, contained Thomas struggles heartbreakingly with his desire not to do what his lover wants, though at times Crammer's work is too internal and opaque. Martha Newman is a puzzle as Susanah, Thomas and Anthony's best friend. She makes the mistake of playing the character's deliberate ambiguity, which is an attitude, not an action. She also seems far too glossy and superficial to be the intimate chum of this pair. As Eddie, the doorman for Anthony and Thomas' building, Mathew Nakitare is fine, but the one-note role is nothing but a plot device.

Euthanasia is a subject very much with us today, and Rabe's play suggests we haven't come very far 20 years on from its 1990 setting. Despite the script's (and the production's) flaws, there's no question that "A Question of Mercy" is ultimately a moving and enlightening experience.


Presented by PTP/NYC (Potomac Theatre Project) at Atlantic Stage 2, 330 W. 16th St., NYC. July 11–Aug. 1. Schedule varies. (212) 279-4200 or www.ticketcentral.com.