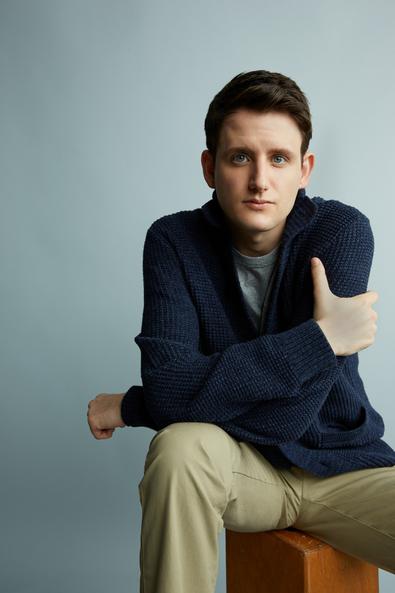 Credited with giving his character on HBO's "Silicon Valley" the most emotional depth, Zach Woods takes a break from gearing up for Season 2 of the tech-geek series to talk to Backstage about his process.
On his character, Jared.
"He's a business administration guy who's trying to impose some order to the Pied Piper operation. He's a maternal and compulsively self-denying guy who wants very much to have a family in one way or another. He wants to feel like the Pied Piper guys are his tribe. He's never felt part of something the way he does with this group."
On prepping.
"I did research into the world of Silicon Valley—watched documentaries and read books—but more important, I was trying to figure out the motivation of the character. I would write down questions like, Has Jared ever been in love? What was the best gift Jared ever got? It sounds pretentious and 'actorly' but it really helped.... The more I can fill in the blanks the less naked [I] feel going in. I read things I thought Jared would like, like 'Are You There God? It's Me, Margaret'—I thought he would like that."
On his Upright Citizens Brigade training.
"Whenever I get stuck, that's what I go back to even if they never use it. If we're doing a scene and it doesn't feel right, I'll usually try to improv a bit so when I find my way back to the scripted material, I feel looser, more connected, more creative. One thing UCB stresses is playing the top of your intelligence. [Your character] shouldn't be dumb as a source of comedy. That's boring."
On what first drew him to the project.
"I knew Mike Judge was doing it and I remember 'Office Space' was one of the first things that I saw where I was like, 'Oh! Comedy can be like that!' It was so different from other stuff I'd seen.
"When I saw he was making the pilot, I was excited and then I read it. With a lot of pilots, people just cram as many jokes as they can into it because they're fighting for survival with other shows, but 'Silicon Valley' was so confident in its tone. It was the combination of those two things: Mike Judge and that it read totally different."
On remaining sympathetic to his characters.
"I play a lot of weirdoes and outsiders. I didn't want Jared to be pathetic. I didn't want him to be someone who leans into their own awkwardness. I didn't want to make fun of him, I guess. When I'm acting the scenes, I didn't want to be cooler than him. It's hard to articulate but I wanted to be on his side and not judgmental of it. I didn't want to play my idea of a nerd or of a guy who can't connect as well as he'd like. I try as hard as I can and I often don't succeed, but I try not to play it from my outside perspective of the character. I think about what they would want and do the best I can to get it."
On how Jared got off the island Arallon.
"A Chinese trawler went by and picked me up, but before that I had to kill a seagull with my hands to eat it and survive. And now whenever I [Jared] shut my eyes I see this seagull's face. That's part of the reason why I wasn't sleeping toward the end of the season—because every time I'd try to sleep, I would just see that seagull's face that I killed. But so many people have asked me how I got off the island. That's just the quiet tenacity of Jared—you just don't even notice that he's found his way back from an oil derrick in the middle of the ocean."
On technology and his acting.
"Sometimes when I'm trying to learn lines, I'll record myself into an old tape recorder; that's sort of like an analog app, in a way. I'm pretty technologically stupid. Right before you called, I was trying to turn off iCloud and I think I may have just wiped my whole phone. I just don't get it. The emotions I have in response to technology are bewilderment and fear, and I alternate between the two really quickly."
Like this story? Read more of our Spotlight On interviews!