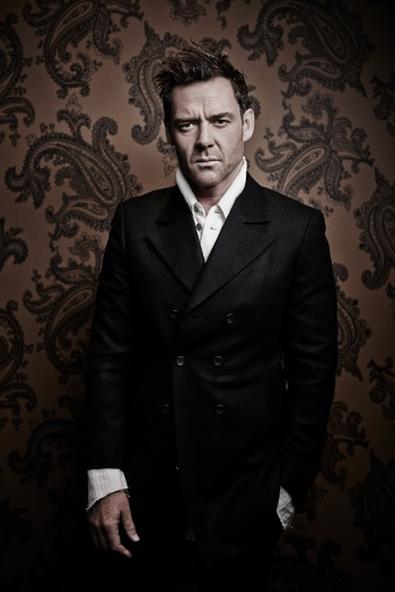 Backstage chats with the New Zealand–born film and theater actor about his approach to his craft, his inspirations, and his favorite day job.
Tell us about your latest project.
It's called "The Equalizer"; it stars Denzel Washington and is directed by Antoine Fuqua. It's a vigilante film and I play the antagonist to Denzel's protagonist. Teddy is basically a sociopath with a business card, as Melissa Leo's character describes him in the film. So I went down that track. It was something to get my hooks into. There are a lot of wonderful books if you feel like a good read about sociopaths!
When did you know you wanted to be an actor?
I was in a secondhand bookstore in London and picked up a copy of Martin Esslin's "The Theatre of the Absurd." Those plays amid all the other plays I was looking at—including German expressionism, which blew my brain out, and lots of things: cinema, painting, sculpture, literature, obviously...I was standing in that secondhand bookstore and really connected with that and the writings of Antonin Artaud. His metaphysical writing, metatheater writings as they're called now, really inspired me as a 19-year-old.
How do you typically prepare for a role?
I do read a lot. I read a lot of textbooks about acting. There's a strong methodology born of so many different people. But Stanislavsky, for me, is the godfather of it all.... I do use that as a guide and figure out what kind of person I'm playing through their psychology, through their mind. How to talk extends from that...how to walk. How to think. And of course, that's just a starting point. I then mess with it considerably.
Which of your performances has left a lasting mark?
Septimus from Tom Stoppard's "Arcadia." It came at one of those times where I'm going, "What am I doing, really, as an actor? This is so unpredictable, so unreliable...." It was a crossroads. And then I got asked to audition for that role in that play, and I got it. I had a lovely experience with that particular production and that director and a fantastic cast, and I fell in love with it all over again.
What was your worst survival job?
I washed dishes. Very happily, I might add... And I worked in a flower auction. I had to get up at ridiculous hours. I thought that'd be a nice place to work, all those lovely flowers. I was way too tired to appreciate that. The money was good! And then I could go off to my lectures. It was the only way I could put myself through university.
How did you get your SAG-AFTRA card?
I'd worked at least 15 years in New Zealand and Australia and I worked in a couple productions that were based out of the United States. There was some film work I had done in New Zealand—"The Lord of the Rings" and this film called "Rain," which was a lovely coming-of-age story of a young New Zealand girl. It's a nice antidote to the wonderful largesse of "The Lord of the Rings." I then came to the United States and managed to get a film called "xXx," which was a big wahoo of a number that Vin Diesel was in...and I got my SAG card. I never would have predicted any of that, but here we are.
What's one thing you wish you knew before you started?
I would have done everything earlier. But then if I had done everything earlier I wouldn't have been an actor. I've learned so much about life and myself, and if I had jumped into the theater really early, who knows what would have happened? I'm very grateful for the theater, which I think saved me from a lot of things.... I could explore other characters, other roles, other worlds, other ways of perceiving the world in a relatively safe environment as an antidote to my upbringing. Theater was such an oasis of exploration for which I am incredibly grateful.
Who do you have an acting crush on?
Mark Rylance, I do admire immensely. Meryl Streep, too. But Mark Rylance, particularly, I admire. His deftness, his seemingly infinite energy, the ease [with] which he approaches things and the imagination that he has, the relaxation. Quite basic things in many ways, but he does it with such sophistication.
What is your best or worst audition horror story?
It can be incredibly painful, as most of us know. I remember the first thing I auditioned for aside from drama school and all that. In some ways I feel strongly that acting chose me. I'm not sure that I chose it, really. And I say that in a very happy, contented way. But when I was at drama school I thought, God, I've got to get ahead for a number of reasons. And there was an opportunity for a commercial, but there were strict rules saying we were not allowed to audition for anything, which was just ridiculous as far as I was concerned.... And I didn't get whatever it was, I can't remember. And I was so frustrated. I just remember it was very quick. The person didn't really give a damn about anything—certainly not me.... It happened so fast. It was like jumping out of a plane or something. And unfortunately, I didn't have a parachute. It was just a horrific experience for me. It lasted all of 30 seconds.
Inspired by this post? Check out our audition listings!