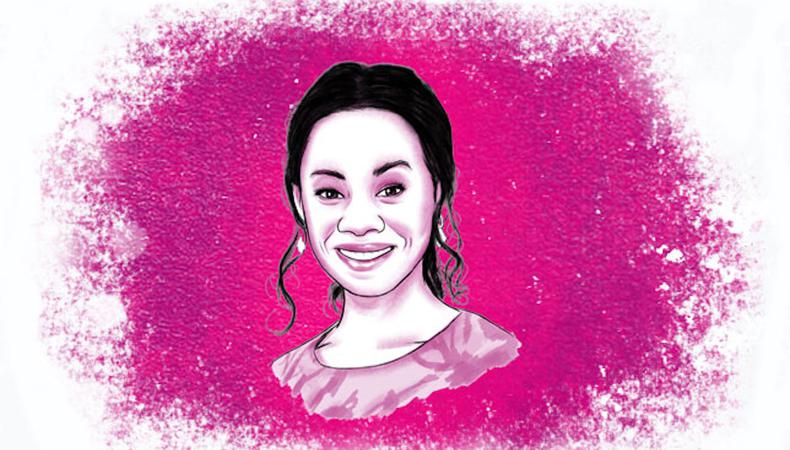 Tony Award winner Anika Noni Rose is well-known on Broadway for "Caroline, or Change" and on the big screen for "Dreamgirls"—and as the voice of Disney royalty in "The Princess and the Frog." Here she tells us about her acting crushes, a truly excruciating audition, and her role on "Roots," the upcoming History miniseries adaptation of Alex Haley's slavery saga, premiering May 30.
Tell us about your character on 'Roots.'
I play Kizzy, the daughter of Kunta Kinte. She was lucky enough to be raised by her father and lovingly so. She was raised to be very proud of her heritage—and not very knowledgeable of it. She really was lucky in a sense, to have both parents and that love bestowed upon her... until things become extraordinarily tragic and she is sold to another plantation. She is raped by a slave master and she has a son whom she is raising with an extraordinary amount of love and strength and pride.
On whom do you have an acting crush?
Cicely Tyson. She's divine, I saw her in "The Trip to Bountiful." It was hard for me to get out of my chair at the end of the show. It was just an amazing piece of theater. And Mark Rylance, I saw [him] in "Jerusalem" in London. He had done this monologue at the end, it was extraordinarily tribal. And [afterward] I turned to my friend to say something, and just burst out crying. Those are the two theater performances that moved me, that shook me to the core. It was very clear to me on those nights: This is why we do what we do. This is it. There is no reason to step onto the stage if you're not willing to go to the place these actors went.
How did you get your Equity card?
I think I received my Equity card in Robert O'Hara's "Insurrection" at ACT. But I might have received it doing "Pippin" at the Western Stage! I don't remember which it was because they were very close together.
What do you wish you'd known early on?
I wish I had known you always start at zero. I think there should be no expectation after you win an award, or expectation to win an award. If you step into this journey knowing every new opportunity is a path, a reset, you'll only be pleasantly surprised if somebody is moved by what you did.
How do you typically prepare for an audition?
I get as much background on the characters I can. When I learn lines I write them down repeatedly; that helps them get into my body better. And if I don't have a friend to rope into reading for me as often as I want to, I'll record the other lines—all my cues—on my phone in a monotone voice, to be used to moving and hearing the trigger. And I make sure I have clothing that puts me in the mindset of who I'm supposed to be. Sometimes I'll do props! I'm not into coming in as a magician. A box of goodies, that could be distracting as well. But there are times when it really calls for something. If your body is telling you something is called for, you should bring it.
What's your go-to audition song?
It depends on what they're looking for. Often they'll send music to you. Even when I started, I found the go-to song thing sort of confusing; it just depended on what it was, the genre. For "Princess and the Frog" I sang all the music I had! I was like, I know you want something from the '20s, I don't know! I just kept singing.
In the alternate universe in which you aren't an actor, what would you be doing?
There are a couple things I would do. I would probably be a shrink; I'm very interested in the mind. I also love travel photography. And I would eat copious amounts of food and be a soft food critic. I love to eat—good food, I'm not interested in being somewhere that doesn't have good food. It pleases me to no end, the sound of food being cooked.
What is your worst audition story?
I don't remember what I was auditioning for. I do remember I had been doing a show belting my face off. I got called in on my day off, so I came in from Philadelphia, and I didn't have a lot of information. I walked into the room and saw Audra McDonald's name on the list. I was like, Uh-oh, this is gonna be a legit audition. My voice was not in a legit space because I'd been screaming for a month and a half, full throttle. So [in the audition] I'm trying to sing somewhere between what I have and what I want to do, and I just couldn't get it to be there. It was like running a marathon and saying, Oh, how about hurdles? And as I was doing it, some lovely man behind the table...slid his finger into his ear. Even if it wasn't as legit as I wanted it to be, it wasn't that bad! All I could do was laugh.
Like this post? Check out more of our Backstage 5 interviews!