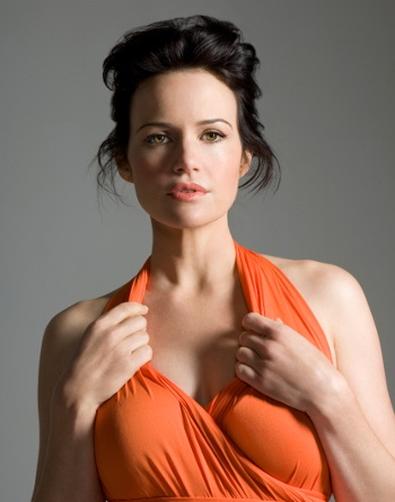 Is there anything Carla Gugino can't do? Mesmerizing onstage ("Desire Under the Elms"), she's equally adept on both the big and small screens—as viewers will discover this summer when her three projects (Fox's creepy mystery "Wayward Pines," HBO's political comedy "The Brink," and disaster movie "San Andreas") all debut within weeks of one another.
Tell us about your latest projects.
The three projects that I've worked on over the last two years are all coming out within a month of each other. Wild timing! "Wayward Pines" is an event series coming out May 14 on Fox. It's a cool, creepy mystery about a group of people isolated in a small town who can't get out. It has some elements of "Twilight Zone," which I was obsessed with as a kid.
Then on May 29, "San Andreas" comes out. It's an epic disaster movie about how a scared, resourceful family maneuvers through a worst-case scenario. It is thrilling visually, but what really attracted me to this film was its sense of humanity and how, in a huge crisis (and really, because of it), an estranged husband and wife are able to reconnect.
The third is a show for HBO called "The Brink." It's a smart political comedy set present day about those responsible for—or irresponsible for—bringing us to "the brink" of World War III. Tim Robbins plays the secretary of state and I play his wife, who is a high-powered lawyer in D.C. They have a very unusual relationship.
How do you typically prepare for an audition?
It really varies. Depends whether it's with a director or on tape, if the character speaks with an accent or comes from a region that I need to research. I have to audition much less now than I used to and usually when I do, now it's more about seeing if the director, the project, and I are the right creative fit.
On whom do you have an acting crush?
Helen Mirren. And Mia Wasikowska always gives inspired performances. I believe her completely every time.
What have you learned about your acting while tackling such different projects?
It's been wonderful to explore three very different characters in three completely different genres! I realized I love to shed skin and find a new one. That process is incredibly exciting to me. I also got really good at living out of a single suitcase.
How did you get your Equity and SAG-AFTRA cards?
One of my first jobs was a guest spot on "ALF." Illustrious it was not, but I was incredibly grateful for it and I got my SAG card, so I was officially an actress! And my Equity card came with a job that changed my life: Arthur Miller's "After the Fall" at the Roundabout. An absolute dream, and a turning point for me as I realized I was at home on the boards and theater would become a major part of my life and career.
What do you wish you'd known before you started acting?
I think it's good to not know much at the start, in a way. Retaining that sense of newness and optimism is key in a business that has no shortage of disappointments. Being "unrealistic" can really help. They say talent is key, but tenacity and patience perhaps even more so. More and more, I tend to agree!
What is your worst audition horror story?
I went in for a big movie years ago and I poured my heart out and had a great audition. The casting director looked at me after and said, "Actors like you are the reason I do what I do. That was amazing." Being young and naive, I called my agents and said, "I think I'm going to get it!" The feedback that they received was, "She was great but she just slipped through the cracks." I thought, How can a person slip through the cracks? Maybe a bobby pin or a toothpick, but a person? This profession is a constant reminder to not look for your value outside yourself.
Which of your performances has left a lasting mark on you?
I think a great deal of them have, but two come to mind: "The Buccaneers," a BBC miniseries based on the Edith Wharton novel, was life-changing for me. I was 23 and I really became a woman over that five-month span shooting in England. And the play "Desire Under the Elms" by [Eugene] O'Neill. I did it with Pablo Schreiber and Brian Dennehy, directed by Robert Falls. We started in Chicago and then moved to Broadway. It was one of the most challenging and fulfilling roles I've ever gotten to play. Oh, and my guest star on "Doogie Howser," of course!
Like this post? Check out more of our Backstage 5 interviews!