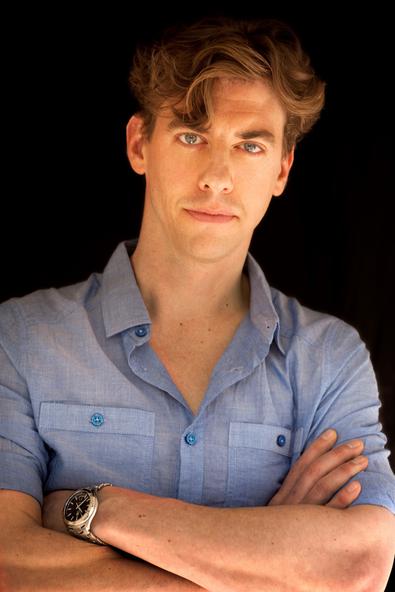 Tony Award winner Christian Borle has just received his third nomination for best featured actor in a musical, playing a codpiece-wearing, rock star version of Shakespeare in "Something Rotten!" at the St. James Theatre.
Tell us about performing "Something Rotten!" eight times a week.
I have the enviable task of showing up 45 minutes into the show after sweet Brian d'Arcy James has already done a whole show's worth. I pack myself into very tight pants and then get to let my hips do all the talking. But the true joy of "Something Rotten!" is getting to go to work and work with all of these hilarious people and listen to the audience laugh hysterically for two and a half hours. It's really exciting and quite joyous.
What have you learned about yourself while playing Shakespeare?
I have discovered that I guess people really believe me as a jerk. And I'm trying not to read too much into that! But it's quite liberating to play a cad. Black Stache in "Peter and the Starcatcher" had perhaps a similar level of narcissism, but I think it was clearer that that character was desperate for love and attention, whereas I think there is a big part of William Shakespeare that truly believes his own press.
Who's your biggest acting crush?
Well, everyone, gay or straight, has a little bit of an acting crush on Brian d'Arcy James. That's just the power he has over all of us. I'm gonna leave it at that.
What do you wish you'd known before you started acting?
You can never coast on talent or charm. The discipline of the job is to be the most prepared person in the room. I learned that after a couple of appallingly bad auditions for very important people where I had just not done the work. I thought, Why did I not work harder? That would've solved all of this. And I never looked back.
Speaking of which, what is your worst audition horror story?
I wouldn't call it a horror story, but I went in to audition for the illustrious and wonderful Stanley Tucci, who was directing the "Lend Me a Tenor" revival. I had not memorized the sides and was hoping to coast on whatever spontaneity happened in the room. He let me do the scene twice and I was terrible. And at the end of the audition he was kind enough to put his hand on my shoulder and say, "You're a fine actor." That really translated to me as, "That just wasn't good enough." He was so incredibly gracious and so lovely, and it was the moment that changed my life on some level.
And how do you now prepare for auditions?
Now I memorize the material about a week out. Then just drill it every day for an hour in the morning, pacing back and forth in my kitchen, so by the time the actual day gets there, I feel like I know it like the back of my hand. I get good rest, go in, and surrender to whatever that room feels like. I think that's where real relaxation comes from: true preparation. Relaxation doesn't come from some magical, alchemical, lucky mixture of things.
How did you get your Equity card?
I played Huck Finn in a production of "Big River" at the West Virginia Public Theater. It was a magical summer. It was a short summer stock gig; I'd been in the ensemble the summer before. They very graciously figured out the hours and gave me my card.
What has been your worst survival job?
I wouldn't call it terrible on any level, but I was an elf in Macy's Santaland. My elf name was Swifty the Elf—I'm not entirely sure why I chose that moniker, but there it was. It was actually a very sweet job, but the worst part of it was the 16-minute loop of Christmas music. You would hear the same songs day in and day out.
Which of your performances has left a lasting mark on you?
I think on top of all the wonderful, obvious accolades that happened with "Peter and the Starcatcher," the lesson that experience taught me was true collaboration. Learning when your ego has to step forward and be confident and feel worthwhile in the room—and when to take a step back and watch and listen and trust other people to do their thing. Even as we created it over the course of years, I developed such a wonderful relationship with those directors and with Rick Elice, the writer, and that show was so much about collaboration, given the ensemble nature of it. Those creators were so generous and smart and wonderful and now that's kind of something that I crave. Fortunately "Something Rotten!" was very much the same way!
Like this post? Check out more of our Backstage 5 interviews!