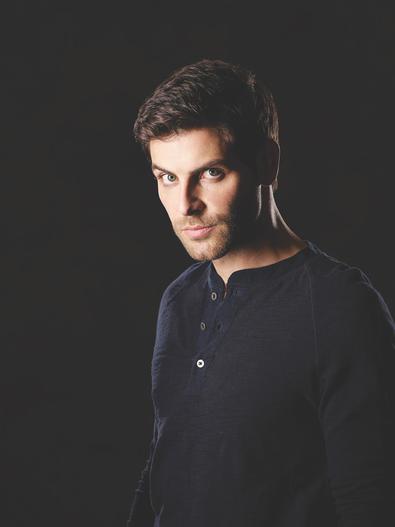 Currently playing Nick Burkhardt on "Grimm," David Giuntoli opens up about his worst audition horror story, his acting crushes, and his leading turn on the NBC paranormal drama.
Tell us about "Grimm."
We're in our fourth season and we were just picked up for a fifth. It's a fun show where anything can happen—love potions, people becoming different characters, transforming for one episode. It's kind of a dream in that I'm really not playing the same role for five straight years.
What have you learned about your acting on this project?
Well, it's rare to be able to be a character for such a long span of time, and I think one of the upshots of that is that you get to change gradually. It's a subtle kind of character change, and it's a real gift. Usually with plays or TV shows that don't go for five seasons, you have to squeeze it all into an hour or 12 episodes.
What do you wish you'd known before you started acting?
I was lucky in that I came from the Midwest without really knowing anybody who was an actor—I think knowing so little was actually helpful because I didn't have any expectations. There was no chip on my shoulder whatsoever; I didn't think I was wickedly talented, I didn't come out of theater school where I'd already gone through the competitive who's-gonna-get-what scenarios. I did finance, and I was in a stage of my life where I felt the world needed more me. It was so naive, but it helped me in that I was really excited to get any role.
On whom do you have an acting crush?
Oh, Mark Rylance—total actor crush on him; he's phenomenal. I saw him do "Twelfth Night" and "Richard III" on Broadway last year. And then I fell in love with Edie Falco while watching "The Sopranos." My girlfriend and I started watching it together last year and I would just smile every time she came on the screen. She was just so sweet. I think Tony and Carmela are the best depiction of a relationship ever on TV.
What is your worst audition horror story?
I was testing for a network TV show prior to "Grimm" and I went through the studio test. [At that point] you're kind of crossing your fingers and hoping they call you for the network test. So my manager calls me and she's like, "Great news: The casting director loves you. The network has no real notes.... Just go home, wash your hair, and come back." I'm like, What? My note was to go home and wash my hair. I guess I had too much greasy product in there or something, and it was humiliating. But I did. I went to a friend's nearby, washed my hair, and did the network test. You know, they wanted to give me the job, I just clearly didn't have anybody in my life at that point to say, "Hey, enough with the product. You don't need that much."
How did you get your SAG-AFTRA card?
When I moved to L.A. in 2005 I was putting out Craigslist things, trying to get one day as a PA or trying to beg for extra work. I started doing extra work on "CSI: Miami" or "The OC." And I was so stoked to even get that. But I think I got my AFTRA card on a Mervyn's commercial. Mervyn's was, like, a regional Macy's. And the first check I got in the mail, I think it was $3,000 and it was so much money to me.
Which of your performances has left a lasting mark on you?
One of my first gigs ever, actually. It was a really good role; I had to play a soldier who was homosexual and his lover—my lover—was in a hospital on his death bed. This was on "Grey's Anatomy." My lover wasn't out to his family, so his military father was there and I was kind of waiting in the wings pretending like I was just a buddy. [In the scene], I had to go on and tell his father that we were in this relationship and be defiant and say, "No, I'm staying here." And I had a passionate kiss with this guy on camera, which was difficult. I kind of had to psych myself up for it. It was a heart-wrenching role, but it really helped launch my career because it got a good amount of attention. I learned a lot. I learned not only about putting myself in the position that my character was in, but I also learned everything on set ultimately becomes technical, and having to kiss this guy over and over and over again... It was basically just about hitting a mark.
Like this post? Check out more of our Backstage 5 interviews!