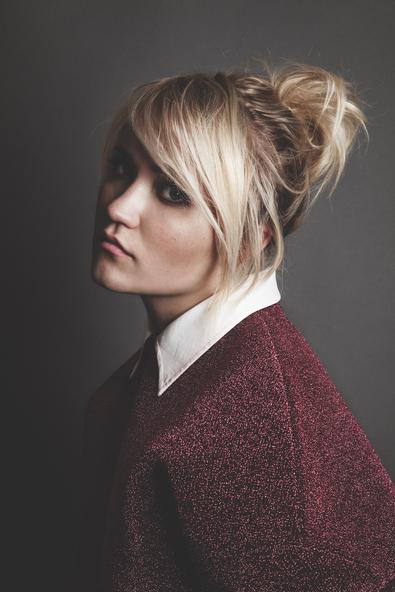 With her ABC Family show "Young and Hungry," about food blogger Gabi, who works as a personal chef to a tech guru, back March 25, Emily Osment ("Hannah Montana") chats about her biggest acting crush, her most challenging role, and what she's learned throughout her career thus far.
Tell us about "Young and Hungry."
This has been a really great experience for me. I thoroughly enjoy sitcoms; the schedule that comes with them and the camaraderie you feel with a certain group of people when you've been working together for a long time. I did a show for five years and took a little bit of a break, went to college, did some music. And then my first pilot season back from all that, I read this script and loved it and went in, and by a very big stroke of luck I got pretty far in the process. I realized I really do love this type of comedy.
What have you learned about yourself on "Young and Hungry"?
I never really get to play a character who's my own age. I kind of look a little bit younger for my age. When this came about and I was actually playing 23…a lot of the time the storylines are things that I've experienced or completely understand, or I've been there before and it makes it easier to connect. For so many years I've been playing younger characters, so it opens up a completely different acting bracket for me—that I can actually play someone who's had these experiences in real life.
On whom do you have an acting crush?
Well, Julianne Moore, for sure. Oh my God, I remember when I saw "Boogie Nights" for the first time. I might have been too young to realize everything that was going on, but that was one of those movies where you sit there and you just watch her because she's so good. She's like a chameleon in every scene. I remember being so inspired by how real she was and how brave she was to do a role like that. [She's] one of the bravest actors you can find.
How do you typically prepare for an audition?
I've always been one to want to memorize everything and just be confident that I know all of the lines, but that changed. After college I realized it's not as much about being off-book as it is about completely understanding the character and, more so, getting into the mind of your character. By putting yourself in that position, it's always more beneficial than just sitting down and memorizing the lines.
Which of your performances has left a lasting mark on you?
I did an ABC Family movie called "Cyberbully" a couple years ago, and it was unlike any movie I'd ever done before. I remember just reading the script and thinking, OK, she cries in every scene. I remember going through my iPod and finding 50 different songs that made me feel the way I wanted to feel in a particular scene, and mapping out the script through songs. I said, OK, for this day I'm going to listen to this song, and this day I'll listen to this one. I remember being so proud every day and being prepared, and getting on set knowing I was prepared and knowing that whatever the director wanted to do, I could do it.
I'm so proud of that movie. Most people say, "Bullying happens every day. What are you gonna do?" But there is a fix, and the more we talk about it and make it apparent in schools and show these films in schools—I think they show "Cyberbully" in high schools now. [It's important] to make everybody aware that words are really powerful, more so than you think.
What do you wish you'd known before you started acting?
I'm in an interesting place because I've been acting as long as I've kind of been doing everything else in my life. I started really young, as did my brother [Haley Joel Osment], so there wasn't really a conscious part of me that was, like, "What am I getting into? What's going to come of this if I keep doing it for a long time?" I started acting the same time I started riding a bike, and when you're riding a bike you're not thinking, Oh God, what if I fall? Or, maybe you are. But it's just one of those things that it's so exhilarating and it's so fun, you don't think about all of the ramifications of it—or you don't think about the process. You don't think about the longevity of the career; you just think about it there in that moment when you're 6 years old and there's craft services right there and you get to meet cool people, and you're running around and skipping school.
What is your worst audition horror story?
Well, I have a funny one, actually. I remember being a kid, like 11 years old, and telling my dad to wait in the car. Like, I'm going to go up there and do this myself—I'm going to check in, I'm going to figure out where the room is, I'm going to sign my name. So I went up there and went into the complete wrong room, wrote my name down for an oatmeal commercial, and sat in a room with a bunch of little girls. 'Cause I thought, Well this is where I'm supposed to be; I look like them. And they called me in and they said, "OK, so just hold the box of oatmeal and smile, and say, 'I love Quaker Oats.' " And I'm like, "Wait this isn't the 'Secret Life of Bees' audition. I think I'm in the wrong room."
Like this post? Check out more of our Backstage 5 interviews!