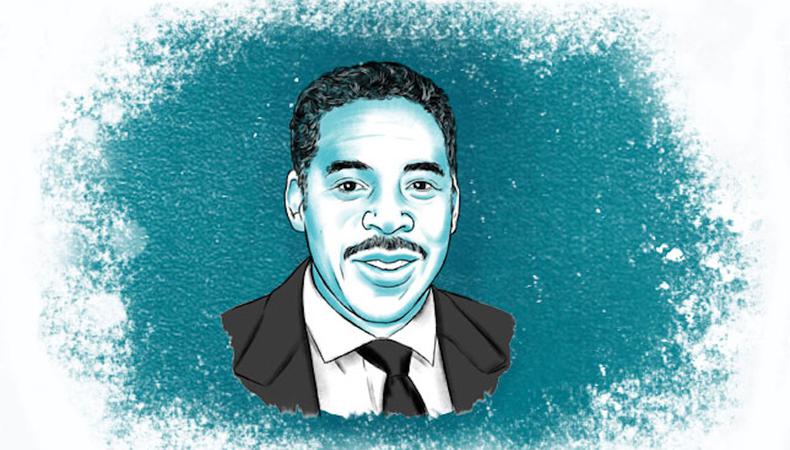 The former "Ghostbuster" and television mainstay is back on screens this spring as a love interest for Lily Tomlin on Netflix's "Grace and Frankie." He talks to Backstage about shoveling dirt, laughing with his co-stars, and going to Yale with Meryl Streep.
Tell us about "Grace and Frankie."
When they said Lily Tomlin's boyfriend, I said, "Are you sure?" I still think of myself as a 19-year-old! But I'm so glad I did it because I love Lily. When you reach my age, if you haven't taken life too seriously you get to laugh a lot. [The cast are all] people I know and they're people I respect and I love watching them go through their process and see them on point. So yeah, I'm having a great time!
How did you get your SAG-AFTRA card?
Back then, if you were in Equity then you could join SAG. I was in Detroit when I first got involved in theater and I got an Equity show, "Ceremonies in Dark Old Men," by Lonne Elder III, and that was back in the mid-'60s. And so when I got out to Los Angeles, which was maybe five or six years later, I joined SAG.
What do you wish you'd known before you started acting?
I wish I knew that things were going to work out, because there's a little part of you that's not sure and you're always a little bit trying too hard. So it'd be nice to trust that this is where you need to be, where you're meant to be, and you're going to be OK. It took me a while to get that, to go, "I'm an actor and this show is ending and I'm going to work again." The thing about this business is no show lasts, so when the show wraps, you go, "Will I ever work again?"
On whom do you have an acting crush?
Charlize Theron. She did "Monster," and I've been in love with her ever since. I worked with Ossie Davis; we did "King: The Martin Luther King Story" back in '76. And I'd seen Ossie since I was a kid, so I was just in awe of him. I saw him do a scene the day before I was supposed to shoot and I was so blown away I was almost scared to go to the set. And Meryl Streep. I was at Yale for a year, and Meryl was there. I definitely have an acting crush on Meryl.
What was your most memorable survival job?
My last years of high school, my brother got me a job working in this foundry from 2–12. Why I did this I have no friggin' idea, because I can't remember one thing I bought with that money. There was a room filled with dirt, and you stood in the center of the dirt and shoveled it into these buckets on a conveyor belt that kept going up all the time, so you never had the satisfaction of filling anything up. For 10 hours, I shoveled dirt. And I finally quit because they wouldn't give me the day off for my high school graduation. But that's the one job where I thought, OK, I know how bad it can be. People compliment me on my shoulders and arms. "Do you go to the gym?" No, I worked 10 hours a day shoveling dirt. And 60 years later, I'm still OK!
What is your worst audition story?
I go out to L.A. and I'm doing some work, and I get a call from my agent. There's this show called "Ryan's Four" that Henry Winkler was producing for ABC. A doctor show, and I really wanted it. The thought of being a doctor on a TV series—I wanted this job so bad. And I really prepared. I went in and I gave the best audition, where you just know you nailed it. And I kept waiting, and finally I get a call from my agent that the audition I had, Henry wasn't in the room for. And Henry liked this other guy, but the other producers really liked me. So they wanted me to come back and read again with Henry there. So I go to the audition and I walk in, and Henry says, "Excuse me." And he leaves the room. And I sort of put it all out on the line hoping that even though Henry's not there… I got a call later that day and my agent said, "It's not gonna work out." I was just bummed. But he said, "The good news is, that movie you went for, 'Adventures in the Creep Zone'? You got that." "Adventures in the Creep Zone?" Screw you! I wanted to be a doctor! Eventually it was called "Spacehunter: Adventures in the Forbidden Zone," which Ivan Reitman produced, and this was a year before [Reitman directed] "Ghostbusters," so maybe out of that came everything that was to follow. But all I saw at the time was I didn't get "Ryan's Four."
Which of your performances has left a lasting mark on you?
The life-changing performance for me was when I did "The Great White Hope" in Minneapolis. I was in one of those low places in my life, and I just poured everything I had into this part. I was turning 30, and I felt like I had been acting for 10 years and had nothing to show for it. I had nothing, and my marriage was over and the wife had kicked me out of the house. And I was in Minnesota and winter was coming on. So I had this play, and I just knew I couldn't leave anything on the table. And the character was big enough that you could do that. The show opened and it was the most amazing experience, because the audience cried, they laughed, it was a nonstop standing ovation. From that point on, I became an actor. I knew what I had to offer. After that performance, I knew that there was a place for me. Yeah, I'm worthy. I bring something to the table.
Inspired by this post? Check out our television audition listings!