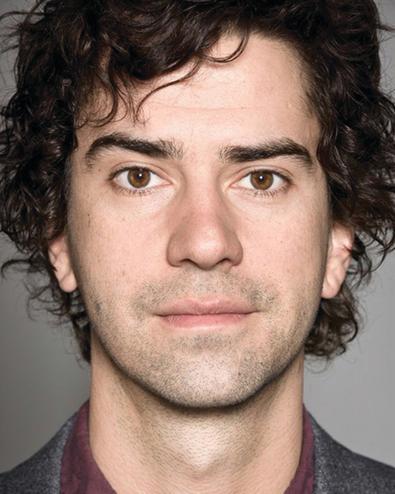 The Shakespearean actor known for his roles on "The New Adventures of Old Christine" and "The Crazy Ones" tells Backstage about his latest Off-Broadway endeavor, audition prep, and his biggest bummer of a survival job.
Tell us about your latest project.
"Posterity" is a play by Doug Wright that he's also directing at the Atlantic. I'm not sure what the dates are, but I'm sure it starts too soon—we're in the middle of rehearsal and it's super exciting. It's about the making of a bust of Ibsen at the end of Ibsen's life. I play a sculptor named Gustav Vigeland, Norway's most famous sculptor at the time. We meet and we fight and it's fun. It's about art, about a great artist worrying about his legacy.
What have you learned about yourself during "Posterity"?
That I wish I had spent more time sculpting as a youth. I really wasn't sculpting hard enough or paying close enough attention to the naked human form. You'd think that would have been right in my bailiwick, but turns out I was seeing things completely wrong! It's great to work on something with someone who's in the room while it's being made. Doug is such a genie.
How do you typically prep for an audition?
I think it's always a negotiation and navigation of what the particular water weight is I'm about to try to sail through. I like to think I overprepare so I can sail on the day, but the truth is I probably underprepare and then am incredibly tight and neurotic in the room. I don't know; it's just the worst. I try to part my hair in the way my character would part his or her hair, and then try to not look like I'm trying too hard. I put a great deal of effort into making it look effortless—and then pretend I have other people to see later that day.
How did you get your Equity card?
I got my Equity card when I was cast in "The Adventures of Huckleberry Finn" to play Tom Sawyer at Actors Theatre of Louisville when I was 19 years old. The person they wanted to play the part dropped out at the last second and they were left with me. It was super friggin' awesome. I was a brand-new college dropout working at the Drama Book Shop, and I was like, now I've got it made! Two months later I was back at the Drama Book Shop.
Speaking of which, what was your worst survival job?
My worst was a temp job at an insurance agency. My job was to file death notices for clients who had expired. That was a bit of a bummer. It made me think, I'd better do something before I end up in this filing cabinet. I'd better get cast as Tom Sawyer before I'm in this manila envelope.
What do you wish you'd known before you started? What would you tell yourself?
That as torturous and humiliating and debasing and soul-checking as every day in the profession will be, I wish I had known how rewarding it also would be. That's a little bit of comfort. There's so much joy and so much privilege in getting to do what we do.
What is your worst audition horror story?
I auditioned for Joe Mantello and Terrence McNally for "Corpus Christie." The agents at the time told me I should perform a monologue I wrote myself about an embarrassing thing that had happened to me in my own life. And when I showed up at the audition, everyone else had sides and was working on the actual lines of the play. Because I was a young, vain actor I thought, I'll still go in and tell them this embarrassing story about how I lost my virginity instead of actually performing the text. And I did. And I did not get the role. At the end Joe was like, "And do you play any instruments?"
Who do you have an acting crush on?
I should say my girlfriend [Lily Rabe] because she's an actress. But that's like a double crush, a double scoop of ice cream. Of course I have an acting crush on her though! Let me think of some old man and that'll be OK. Currently I have an acting crush on John Noble and the rest of my ["Posterity"] cast: Henry Stram, with whom I did a play 10 years ago; Mickey Theis, who's fantastic; and Dale Soules is so great. Also Mark Rylance. When it's lasted as long as my deep and abiding love for Mark Rylance has lasted, I'd call it more of a marriage than a crush—one that he hasn't agreed to be a part of. It's a one-sided marriage.
Like this post? Check out more of our Backstage 5 interviews!