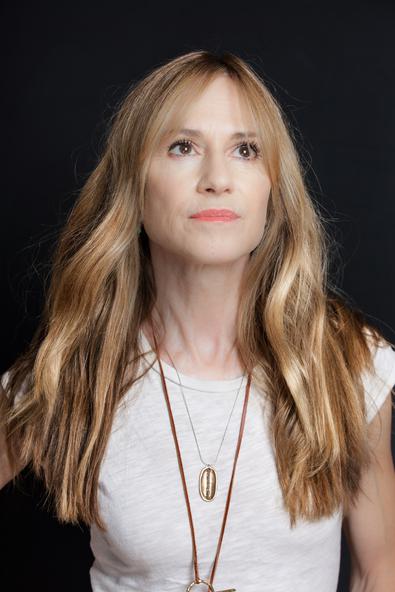 Academy Award winner Holly Hunter has been enrapturing movie fans since the one-two punch of "Raising Arizona" and "Broadcast News" in 1987, and she's rarely stopped working since. Now she's appearing opposite Al Pacino in "Manglehorn," in theaters June 19.
Tell us about "Manglehorn."
We shot it in Austin, Texas, and it's directed beautifully by David Gordon Green, who I've been a fan of for years because his movies have such a confident, original tone to them. Al Pacino plays a man who is trying to change something fundamental in who he is, reaching out of his own loneliness to make a connection outside of himself. And I play a bank teller he is reaching out toward in that quest.
How do you typically prepare for an audition?
I don't offer advice to actors only because I've seen actors become successful through ways that would never even occur to me or that wouldn't work for me. But this has worked for me: Never memorizing a scene. I liked to carry the script into an audition, because for me, it reminded people that this was not the final performance. I'm still a work in progress. That works for my own psyche. This is what I can do, but that ain't all! And I tended to have my agent put in a pre-emptive call before I would show up and say, "Holly would really love to come in prepared to read." So I would enter the room uninterrupted and go into the reading. And then after that I could stick around and chat and meet people. But the first thing I like to do is read. And that was consistent with me. I never wanted to come in and chat first.
What do you wish you'd known before you started acting?
I kind of have loved finding out all along the way. I've enjoyed the process of understanding who I am through my work and who I am in relation to others; the intense collaboration that acting requires and thrives in. And also the really intense private work that acting thrives in. I have loved the organic discovery. There's no way that anyone can know the ebb and flow of one's career. You can't know that. You can tell young actors it's going to be very difficult, but there's no way you can understand the difficulties and the rewards through description. You have to cellularly experience it. It's a very difficult career in the long run, but at the same time, there's no long-haul career I'd rather be involved with. Mine has had serious ups and serious downs and I don't regret that at all.
On whom do you have an acting crush?
I always had an acting crush on Philip Seymour Hoffman. He just wowed me, all the time. He was just quietly so impressive, and so private. I'm so happy for Laura Dern, that she got [Oscar-]nominated for "Wild." I've been a fan of hers for decades. And Julianne Moore, I'm so thrilled that she won because she's been doing exemplary work also for decades, and just continues to take these giant risks and be terribly successful at them, too.
What was your worst survival job?
I was hired to spot shoplifters in a department store. That lasted, like, three days.
How did you get your Equity and SAG-AFTRA cards?
I got my Equity card doing "Buried Child" at what used to be called the Loretto-Hilton Theater and now it's the Repertory Theatre of St. Louis. It remains one of my favorite experiences of my career. And my SAG card I got doing "The Burning" in 1980 in Buffalo, N.Y. It was my first movie job and I got it like three weeks after I landed in New York. I was a glorified extra.
What is your worst audition horror story?
I was doing regional theater and I went in and met this famous director for a movie and he asked me what I'd been up to. And I said, 'Well I just flew in from San Diego, where I'm doing a play at La Jolla Playhouse,' and he said, 'Uh-huh, and what else?' 'Before that I was in Massachusetts doing Nora in 'A Doll's House.' And he said, 'Uh-huh, and what else?' And I said, 'Before that I was at the same theater doing a play called 'Artichoke.' And he said, 'Yeah, what else?' And I named a couple other things. And he said, 'So what, you wait tables for a living?' It killed me because he was a guy who didn't value the theater. And the fact was that at that point, I could live in New York on a regional theater paycheck. I was very young when that happened and it was a hard one to take.
Which of your performances has left a lasting mark on you?
My career started off with a sort of defining element. I would say I was lucky to have my first big movie be "Raising Arizona," because it's still one of my most favorite movies. And I could say the same about "Broadcast News," which came immediately after it. I learned so much right off the bat from people who were doing exactly what they should be doing in life. And of course, "The Piano" established a great friendship with Jane Campion, which has been important to me. And doing "Saving Grace" [on TNT], that was a formidable influence on what I learned. The learning curve was so steep doing that show; I had so much fun and got to take so many chances. So many chances! Stuff that I'd never done before, I got to do on "Saving Grace."
Like this post? Check out more of our Backstage 5 interviews!