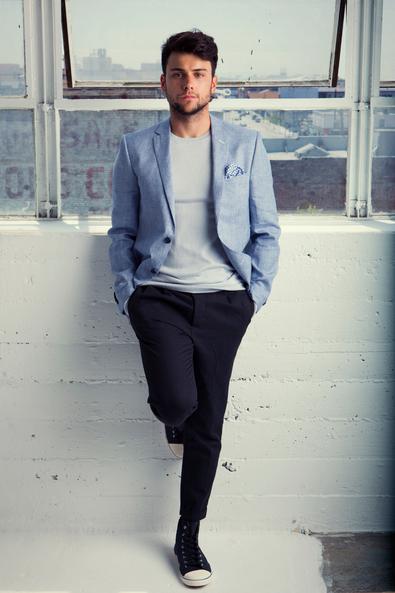 Shondaland breakout Jack Falahee is back on the small screen with the midseason return of "How to Get Away With Murder" and an arc on PBS' Civil War drama "Mercy Street." He took a break from filming "HTGAWM" to chat about riding horses and shooting guns as the Union's most wanted man, Confederate spy Frank Stringfellow.
Tell us about "Mercy Street."
I'm really lucky [because] on "How to Get Away With Murder," we only shoot 15-episode seasons. Not only does it creatively contain the show, it allows all of us to work on outside projects, which as an actor is obviously the dream. My team and I started talking around December 2014 about what my hiatus job was going to be. We wanted it to be something as antithetical to Connor Walsh [as] we could achieve. We heard that Ridley Scott was doing "Mercy Street" [with creators] Lisa Wolfinger and David Zabel. Add to that that it's period, that I'd be up on a horse and shooting guns—it felt very different, and for that reason it felt very right. Pair that with my childhood and to-this-day fascination with the Civil War, and it was the perfect project.
How do you typically prepare for an audition?
Especially when living in New York, you're dealing with how crazy the city can be itself and catching the subway and getting to the audition and removing layers of clothes or putting on layers of clothing based on the weather—it's a total nightmare. I would always go to auditions as early as possible so I could just sit there and acclimate and change my sweaty T-shirt. I have a lot of anxiety just generally. A good friend of mine has been teaching me some Kundalini yoga meditations and breathing exercises, which have been super helpful, I've found, for the audition process. I'll throw in headphones and just go through these little meditations—they're 10 minutes long—[to] try and center myself before going in.
Which of your performances has left a lasting mark on you?
I learned a lot playing Charlie McBride on "Twisted" on ABC Family. That was my first gig out here, and just learning how a set works—that's something you don't learn at all in school. You don't learn until you're doing it.
What do you wish you'd known before you started acting?
I'm glad that I knew so little going into it because I think that I wouldn't have done it. I've entered the business from an extremely privileged position—just my education and the family that I come from and the opportunities that I've been granted. But I think had I known the realities of how tough it can be, I wouldn't have even come into the industry. I would've been scared. I felt that this was the thing that I wanted to commit to and spend my life doing, but I was so naive.
What was your most memorable survival job?
When I moved out West, I drove for Lyft, which is a ride-sharing company. That was one of the better survival jobs I've had that was somewhat applicable to acting. I was driving the graveyard shift overnight, when I would get a lot of intoxicated people in the back of my car, and you would see all sorts of characters. I had this little journal that I would write down about passengers' characteristics that I found interesting. I'll have to dust that off.
In the alternate universe in which you aren't an actor, what would you be doing?
I think about that often. I wasn't the greatest student. I got by and got good grades and everything, but I think that for me, the acting bug bit me. It was just the first thing that really inspired me, so I don't know. I think it is the thing that I do because I can't imagine myself doing anything else, but I do wonder, you know, had I traveled after high school or gone to a liberal arts school and [taken] a more traditional career path, would I have been inspired by something else that would have compelled me to pursue another career?
What is your worst audition story?
I workshopped the musical "The Last Ship," that Sting put up on Broadway last season. I went to NYU for musical theater, but I've never been the strongest singer. I remember going into this audition, and I had to sing 16 bars, and [then] there was a scene. I sang the 16 bars and I had, like, a panic attack while I was singing. Just going through my mind, all of these thoughts: What are you doing? You don't belong here. They said something to me—presumably, "OK, now let's see the scene"—and I just said, "Thank you," and I walked out and left the audition. I got outside and shut the door and my hand was still on the handle when I realized, You didn't do the scene! So I burst in and just started doing the scene. I thought it was a disaster, and then somehow I ended up booking the thing.
Like this post? Check out more of our Backstage 5 interviews!