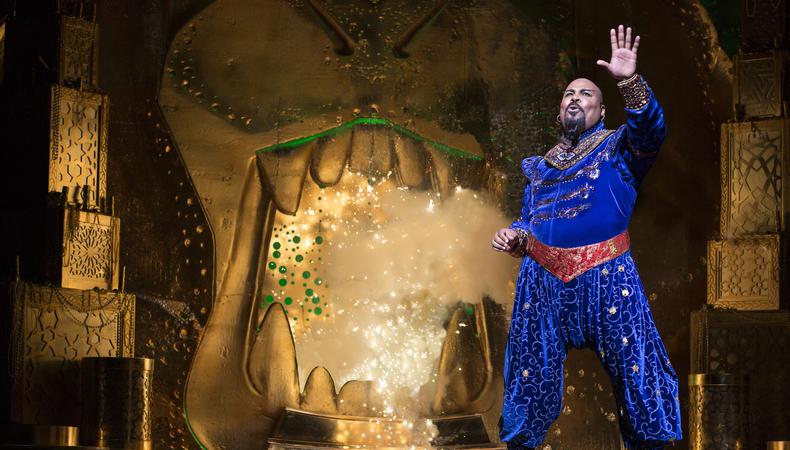 Still stopping the show as Genie in Broadway's "Aladdin," Tony winner James Monroe Iglehart talks about being a swing and getting his Equity card, with whom he'd love to work, and what he wishes he'd known before he started acting.
Tell us about playing Genie.
When I was 17 years old, I saw the movie and I fell in love; Genie's been my favorite Disney character ever since. To be able to play the role, and on Broadway, and for the American Theatre Wing and the Drama League to acknowledge me and give me a Tony for it is kind of crazy. I'm literally living out my high school dream here.
What have you learned about yourself doing this role?
I have more strength and stamina than I thought I had. When you're playing a role like this, it doesn't matter whether you have a cold or you are hurt, you've got to go out there and do it. I've found some amazing riffs and hills and valleys to get through the show. During Tony season, I had a sinus infection and bronchitis at the same time! And you couldn't miss a show because it was Tony season and everybody had to come out and see it. So now when I have a cough or a sniffle, I'm like, This is nothing!
How did you get your Equity card?
There was a theater in the Bay Area called Woodminster. I was about to sign my contract with them to do "Ain't Misbehavin' " for the summer, and that week I auditioned for the national tour of "Show Boat." I went in on a whim because a teacher told me to. I auditioned and they hired me, so I became an Equity actor on the national tour of "Show Boat" in 1998 as a swing. It really changed my life.
On whom do you have an acting crush?
I would love, love, love, love to work with Chuck Cooper ["Amazing Grace"], and I would love to be onstage with Norbert Leo Butz. I think our energies would probably destroy a building. When I did the TV show "Smash" with him, I was watching him, thinking, God, I have got to up my game because his energy is amazing! Also, I'm not going to lie, it would be fun to sing duets with Audra McDonald and Kelli O'Hara. Oh, and Jessie Mueller and I got to work together on the Tonys and I think it would be fun to do things with her.
What do you wish you'd known before you started acting?
I wish I had a little bit more discipline as far as study when I was younger. I've learned it now, but when you're 17, 18, 19, 20, you're not thinking about that; you're thinking about getting onstage and doing what you think you know. Now I've learned it really is about studying—studying character, studying people, studying the script, the beats, what makes a show come to life for the people who come and pay their hard-earned money to see it.
What was your worst survival job?
I was a machinist. And I am the worst person with machines ever. I am terrible. At the time, my then-girlfriend's dad had a machine factory and I worked there; it was horrible. I am such a prissy guy, I swear. I don't like to get dirty. I don't like bad smells. I don't like using my hands too much. I don't like getting my nails dirty. It was funky, it was sweaty, and it was terrible. But I had to do it because I was in college trying to make money. The one that's right under there: a waiter. Every actor has to be a waiter, and I was one for literally one night. Not even 24 hours! I was a waiter for six hours and quit the next morning. People are crazy. I was like, I can't do this job, I'm gonna end up going to jail!
What is your worst audition horror story?
A couple of months before I auditioned for "Aladdin," I auditioned for "Sister Act" and I had made it through with the director and the casting director. I had a callback and they told me I was going to audition with the great Alan Menken, and I was so excited. I got in there and I hit some notes and then I hit this one note that was so ugly. I mean it was the ugliest note of my entire career. It was so ugly that there was no way to fix it! At least sometimes if you hit an ugly note you can fix it and do something cool, no. Nothing. It was just ugly and out there. And Alan was so sweet. He just looked at me and goes, "Oh! That's interesting! Maybe I'll write that note into the script!" Which just made it so much worse! Not only do I suck, now you're pitying me—awesome.
But that made it so much fun when two months later I got to audition for "Aladdin." Once I realized he was going to be in the room, I made it my mission, my absolute mission, that even if I didn't get the role, I would sing so well that he could never say that I can't sing.
How do you typically prepare for an audition?
It all depends. If it's a brand-new show like "Memphis," where you have to create the character from scratch, it really is what's on the paper, what the play's about, and what time frame it's in. A character in 2015 talks very differently from a character in 1950; their thought pattern is very different, so you have to use what's on the page as your map to tell you what as an actor you're supposed to do.
But then you have a character like Genie, who's so well-known worldwide, and you have to take some of that from that former project. You want to give people what they know they want to see, but you also want to give them something new. You don't want them coming to see something they could've stayed home and watched on DVD. It really is about studying and trying to find something that works for you, so I focus on what I think is funny, what I think is comical, what I can do for eight shows a week while still giving this character something new.
Which of your performances has left a lasting mark on you?
Every single character that I've played has left a mark on me and taught me something. Whether it be Mitch Mahoney in "The 25th Annual Putnam Spelling Bee" —that was my first Broadway show ever.
The Lion [in "The Wiz"] at City Center was one of my dream roles; I've loved that character since before I was 10 years old, and then to turn around and do "Aladdin," it's another dream role that's shaped me. It let me know that not only can I work here, I can sustain myself and work on the highest level with some of the best in the business.
I did "Ain't Misbehavin' " and "Five Guys Named Moe" regionally, and those two shows showed me that not only do I love performing every night, I don't want to do anything else but perform every night.
Like this post? Check out more of our Backstage 5 interviews!