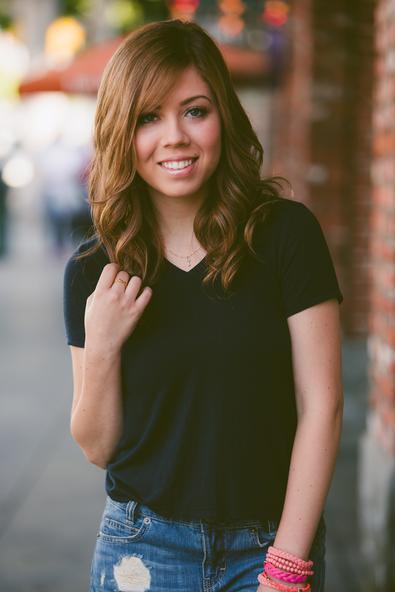 Known largely for her comedic roles on shows such as "iCarly" and "Sam & Cat," Jennette McCurdy steps out of her comfort zone for Netflix's drama "Between" (out May 21), about a town overrun by a mysterious disease. The young actor chats with Backstage about what she's learned from this project, her acting crushes, and what she wishes she'd known before she started acting.
Tell us about "Between."
"Between" is about a small town that's quarantined after a disease outbreak and the only people left alive are under 21. So the people have to figure out where the disease came from and how to continue living and how to run their town. My character is Wiley. She's the pregnant daughter of a minister. She's cynical; she's rebellious; she's really lost and confused, trying to figure herself out; and she feels like an outsider.
What did you learn about yourself while working on this project?
"Between" came at a time in my life when a lot of my own personal journey was sort of mimicking my character's, so I feel like I was able to strangely experience things for myself emotionally that I needed to—things that I internalized for a bit, that I had been putting on the back burner waiting to process. I was able to process those things through the project, so it was kind of bizarre. When I first got there I was one way, and then when I left I felt like I had learned all these new things. It was a really great experience.
What do you wish you'd known before you started acting?
I feel like I was prepared for going into auditions, and that was always very helpful to have that on my side. But I think…watch as much as you possibly can and figure out who you are before you worry about figuring out who a character is, 'cause you're not going to be able to bring anything to the character if you don't know yourself.
On whom do you have an acting crush?
Oh my God. OK. My favorites are Bill Hader, Michael Cera, Fred Armisen, and Josh Gad. They're all so uniquely funny. They have their own essences of comedy within themselves, and they seem like they'd be so fun to get to know. I would love to be able to have a conversation with any of them. I went to a taping of "Mulaney," and Bill Hader and Fred Armisen were in the audience and they just got up and did five minutes of duo standup and it was just amazing. I'll never forget it.
How do you typically prepare for an audition?
I read the script as if I were watching the movie, and I try and remember that initial read as much as possible, because there's something to be said for those innate choices that you make. I find that, ultimately, once you get in the room everything changes, and you just have to go with the flow. You can't try to force anything you did an hour or five minutes earlier.
How did you get your SAG-AFTRA card?
I got it doing some background work when I first started acting, and then I did some really cheesy commercials and stuff in order to be able to apply for the union. I did not one, but two dental commercials. I remember the jingle that went with one of them! It went, "Dentaland, it's a fun place to go… to the dentist!"
Which of your performances has left a lasting mark on you?
When I was younger I remember a particularly breakthrough audition for me, because I feel like I had been playing it safe a lot of the time in a room and I had been making soft, subtle choices and not necessarily doing anything…or just [doing] what I thought the casting director wanted. And then I auditioned for a girl with bipolar disorder for an episode of "Strong Medicine" and I just kind of let go and went crazy. I got the part, and that was a really landmark audition and character for me.
Like this post? Check out more of our Backstage 5 interviews!