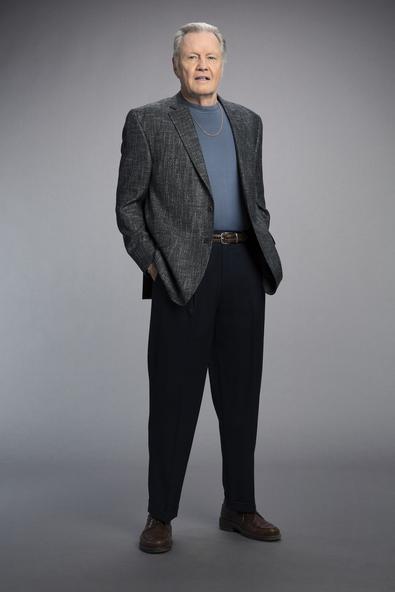 Oscar winner Jon Voight has had an illustrious career leading up to his role as Mickey Donovan, the titular character's father on Showtime series "Ray Donovan." Voight is relishing the role, and he talks about what he likes most about the show, what he learned from selling encyclopedias, and how he prepares for an audition.
Tell us about "Ray Donovan."
I just did an important scene with Liev [Schreiber, who plays] Ray Donovan; those scenes are a lot of fun for me—they pack a lot of stuff. These two characters are very strong and interesting, and the idea of confrontation between a father who's done his best for his children and a son who's resentful—these two powerful people who have much history and negativity in the background—is interesting stuff.
What have you learned about yourself while playing Mickey?
I learned how much I love acting and how much I enjoy working on one character over a long period of time. I am an actor; I have other hobbies and interests and stuff, but I really am an actor and I enjoy this process, and I'm working with other actors who are, like me, invested in telling the story and being authentic in the way we portray things.
How did you get your SAG-AFTRA card?
I don't remember but I know when I started out, nobody had a SAG card until you had a job. You couldn't get a SAG card without a job and couldn't get a job without a SAG card; that's why actors are so tricky because if you can solve that problem, then you can do anything!
What was your worst survival job?
I had a job once selling encyclopedias, and that was an interesting job because I learned a lot about people's vulnerabilities and how salesmen take advantage of them. I finally quit because I couldn't take it; I couldn't sell things to people who didn't need the product, but I learned about how a salesman works, how they make the pitch. It's a difficult life 'cause you have to appeal to people, find a way to get their attention.
How do you typically prepare for an audition?
I marinate. I think about the role. I make a note or two in the middle of the night and then come in to the set and stay wide open to the ideas from the directors and the other actors. See how it happens when you're doing it, that's the most important thing. A friend of mine, Charles Durning, said, "An audition is an opportunity to act," and I feel that that is such a beautiful reminder. Doesn't make a difference who you're auditioning for; whatever it is, you have an audience and you have a role and you have the opportunity to perform that role the best you can for this audience. If you look at it like that, it doesn't make a difference if you get the part or not. It's not about impressing somebody but solving the needs of the performance.
What do you wish you'd known before you started acting?
I wish, in some ways, I could've realized the mistakes that I would make in my life and be prepared for them, or be prepared not to make those mistakes, but you can't do that; those mistakes, they had nothing to do with my acting. My acting was a clear choice and I just kept working at it.
Who do you have an acting crush on?
I've had a great love for Al Pacino's work since I first saw him on the stage doing "The Indian Wants the Bronx" in the early '70s. His work is remarkable. He's the real thing. He's always working as an actor. He's a true actor. I'm always delighted to be in his company; he's just a unique person and a lot of fun.
I once was was given a life achievement award from a prestigious group and I asked him to introduce me because they wanted a person of stature to introduce the recipient; it was so nice of him to do that. I got up and the room was loaded with some the greatest artists of our time: John Williams was there; Steven Spielberg; Daniel Day-Lewis; Meryl Streep; all these magnificent people. And I was getting the award! It was a little amusing to me but I appreciated it, and when I got up to speak I started talking about Al Pacino and I must've gone on for 25 minutes talking about Al Pacino. And because Al and I have a friendship and a lot of humor in our relationship, people were laughing because I was telling little stories. I got funny and when I get funny like that you can't do anything wrong, so it was a very successful acceptance speech! [Laughs]. It was really saying, "Look, this guy's great and his body of work is something that I envy."
What is your worst audition horror story?
I had read in Variety that there was a play called "Squaring the Circle," and they wanted a young Russian-looking man. I was a skinny kid and I guess I looked about 15 or something. So I sent my picture in and I got a response with an address.
I show up at this place and it's a school for the deaf, not a studio or a theater. So I thought, Am I in the wrong place? They give me these pages to read and it's this long speech, so I try to familiarize myself with it, and then I'm called in.
The guy is this sweaty, balding, kind of portly, red-faced fellow. "Oh, oh, you're perfect," he says to me. I'm thinking, What? What is he talking about? He says, "Have you looked at the speech?" "Yeah, I've looked at it." He says, "I'd like you to deliver the speech, but when you get to this point, I want you to kick me in the face." I say, "Whoa, wait a minute. You want me to kick you in the face?" He had me sit on this table and he was sitting in front of me on a chair and says, "Kick me in the face." So I put my foot on his face and I started reading and I just kind of pushed him back and he fell to the floor, but I didn't kick him.
And I'm lookin' at him and I'm trying to finish this speech! He goes, "You know, you can really kick me," and I said, "I think that's it. I'm gonna go now; goodbye, sir." Later on I realized why I was in a school for the deaf! This guy wanted to get the hell beat out of him and he could scream and shout and no one would hear him!
I thought of reporting him and all that, but I didn't. I remember laughing inside because I could see the mark on his face from my sneakers! He's sweating, going, "Oh yes, it was very good, very good, but you can really kick me." "No, not today. I'm not in the kicking mood." [Pause] Is that the end now? Did I fail the interview?
Inspired by this post? Check out our television audition listings!