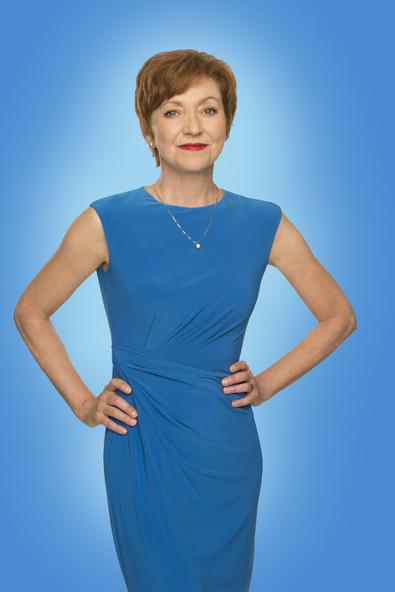 Julie White has delighted audiences in everything from "Grace Under Fire" and "Transformers" to last year's "Airline Highway" on Broadway and her Tony-winning turn in "The Little Dog Laughed." Her newest project, the revival of A.R. Gurney's "Sylvia," opens on Broadway Oct. 27.
Tell us about "Sylvia."
"Sylvia" is a play that was done Off-Broadway 20 years ago and has never been revived in town since. It's an absolutely delightful four-hander [in which] a couple acquires a dog. The dog, as opposed to being played by a dog—which, thank God, because dogs are impossible to work with—is instead played by Annaleigh Ashford, who by all accounts is not impossible to work with. She is a delight. So Annaleigh is playing the dog, Matthew [Broderick] is playing the husband, I'm playing the wife, Robert Sella is doing one of those roles where he has to play a lot of people, male and female. And there you go! I think even though it's about a dog it's a very human and humane play. I hope we do it justice.
How did you get your Equity card?
I did a musical revival called "The Baker's Wife" by Stephen Schwartz and Joseph Stein. They came and saw it there in Austin, Texas, because it was the first production after it had closed at the Kennedy Center. Whenever I see Stephen Schwartz I want to hug his neck; I appreciated him getting me started so much. I came to Fordham University, and then they did a production of "The Baker's Wife" in Chicago.... It was an Equity show, and that made me Equity. I remember going back home to Texas and showing my high school drama teacher that I was a card-carrying actor! Whipping that puppy out like, "I'm an actor now!"
How do you like to prepare for an audition?
You know, people kind of don't make me audition for plays very much anymore, so I haven't prepared an audition for a play in a while. In film or television, it's more of a meeting.... They probably already have an idea of you. You're kind of sizing one another up and getting a feeling of, Do you think we would work well together? If I had audition advice, you should think of it like having a coffee together. It's like a date, you'll get a feeling. Did we hit it off? Is this going to turn into something for us? Or not? So it's not "Pick me! I hope they like me."
Got an audition horror story?
I try to forget them. This was 20 years ago, but I was testing for something at CBS. You used to have to do it in this basement-theater sort of situation. The longer I was there, the more it felt like an underground dungeon. I mean, what I was selling they were not buying in the room! They totally were actively hating me. It was supposed to be funny material, and when you really go for the joke and there's absolutely nothing, you start to feel like, Is my zipper undone? Is there toilet paper on my shoe? It just compounded, and instead of getting tickled or just laughing about it, I got more and more self-conscious. Oh, it was awful.
What about a worst survival job?
Oh darling, I'm so lucky and blessed that it's been many, many years since I've had to do one. But actually, my first job in television was a series called "Grace Under Fire." It was a horrible job. I was a single mom of a little kid and it was so much more money than I'd ever made on anything that I had to stick with it.... I saved enough money so I didn't have to do anything like that again. So it was a survival job; [but] it wasn't flipping burgers. Although I love to flip burgers.
On whom do you have an acting crush?
Well, so many people. I really love great actors in all their myriad guises. Everyone from Ben Kingsley to Channing Tatum I have crushes on. It's summer movie time, so it feels like everybody I've seen lately is in a blockbuster. I have to give a shout-out to the hardest working man in show business, Tom Cruise. His "Mission: Impossible" is awesome. And then I'm so excited that I get a Meryl Streep movie for the summer! Marvelous Meryl, I have such a crush on her, as we all do. It's almost unseemly.
Which role has left a lasting mark on you?
Interestingly, my character in "Sylvia" has gone back to school and gotten her master's in education and is trying to design a curriculum for youth in New York schools that includes Shakespeare. I've done so many new American plays and I love them, but I did "Twelfth Night" in the park five years ago with Audra McDonald and Anne Hathaway—what a dressing room!—and it was so delightful. It was something that I was kind of intimidated by, like, this is just for fancy actors. But it was so beautiful. It made me appreciate that language in a way I never really had.
I don't think about my lines from that show, but I find myself thinking about some of Shakespeare's words. I think of Viola's "I left no ring with her: what means this lady?" I think of Juliet's speech, "When he shall die, / Take him and cut him out in little stars, / And he will make the face of heaven so fine / That all the world will be in love with night / And pay no worship to the garish sun." It's just pretty. It maybe opened my mind to Shakespeare, and that's going to be fun because my character in "Sylvia" quotes the Bard. I find myself on Netflix watching things that are related to Shakespeare. I watched "Shakespeare in Love" again recently—God, it's so good. And I saw Mark Rylance do "Twelfth Night," which was extraordinary, then watched Mark Rylance do that whole "Wolf Hall" thing. Fucking great.
What did you learn about yourself during "Airline Highway" this spring?
That was such a hard project. I recently moved from Brooklyn up to Cortlandt Manor, New York, about an hour out of town. And I thought, I can just run back and forth, just commute. I had an apartment in the city that Manhattan Theatre Club provided me during rehearsals and previews, and I thought I'd just run back and forth, no big deal. I think what I learned doing "Airline Highway" is that doing a play is really exhausting in some ways. Don't underestimate it. Don't think you can just dash it off and then have all the energy in the world to do other things. Have respect for the beast that is the theater. It's going to take it out of you; just know that it will.
What do you wish you'd known before you started this acting stuff?
Oh my God, these questions! That is so hard! I feel like I'm in therapy! I guess it's really hard because I'm a real process person, so I think each thing goes in its correct order. So I'm a little bit like the butterfly effect story; I'm afraid if I'd told myself something ahead of time, I'd ruin the whole way the process is supposed to go. I think I wouldn't clue myself in on anything except to say to my younger self, "Don't worry about it." So many of the things I spent so much time so worried about the outcome... the truth is that worrying about the outcome does not change it one bit. It's one thing if you meditate about something or pray on it, but obsessively worrying about something is a complete waste of time. So, you know, bless it or make your wish and then let it go. You're wasting your time in the present worrying about what the outcome is going to be. If you find yourself doing it, go outside and run around the block or something and get it off your mind.
Like this post? Check out more of our Backstage 5 interviews!