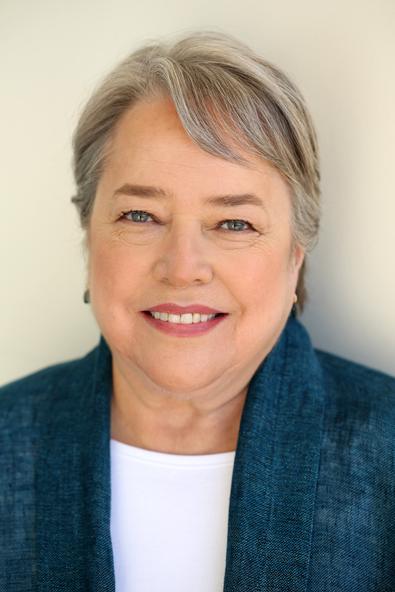 The Oscar winner returns for her third installment of FX's "American Horror Story" (airing Wednesday nights) and talks about her newfound love for Lady Gaga, her acting crushes, and her single day spent working for Ringling Brothers.
Tell us about "American Horror Story: Hotel."
My name is Iris and I run the hotel, and Matt Bomer is playing my son. I'm very excited that I have scenes with Lady Gaga, the Countess who owns the hotel. I've fallen in love with her. She's a sweetheart, she's going to bring so much glamour and talent and creativity to this season. I just love going to work with her every day. And I detest Sarah Paulson's character. I get to do terrible things to her!
How did you get your Equity and SAG-AFTRA cards?
I got my SAG card quite unexpectedly. I was here in Los Angeles doing a play called "Vanities"—it was 1976, I believe—and I got invited by Dustin Hoffman, whom I'd met in New York, to come audition for a movie he was directing. So Dustin cast me in the film and they said, "You're not SAG, so you have to go get a SAG card." And Equity I got because I got a job in Virginia doing children's theater, so my first contract says "Duck and Others." But when I took my first check and got it cashed, wow. That was one of the greatest days of my life.
What do you wish you'd known before you started acting?
I wish I had known that you have to get up really early, that you're going to sweat a lot. And no offense, but I didn't realize even in the last 15 years that we were going to have to become salespeople to do junkets. I was very, very bad at it at first. And very rarely, but sometimes, I've had really rude people say nasty things.
On whom do you have an acting crush?
Just recently, I saw this amazing film called "Tom at the Farm," and it's directed by and stars Xavier Dolan. I'm getting ready to do a movie with him in January and I'm tremendously excited about that. And Mads Mikkelsen and Mathias Schoenaerts and also Tom Hardy and Noomi Rapace. And, of course, Johnny Depp forever and ever.
What was your worst survival job?
It would have to be when I was in Washington, D.C., and I was working as a temp and got hired for one day to work for Ringling Brothers in their accounting department. When I arrived, I took the elevator to the top floor and the doors opened and there was this gigantic gorilla in a cage and there was nobody else there. The secretary had gone and it looked like people had just vanished. So that was really, really creepy. But after a while I got ahold of people and then I spent a day there writing down, "Clown cars, x amount of money. Tigers, money."
What is your worst audition horror story?
It was way, way back. I was flown out to L.A. to audition for the psychiatrist in "Rain Man." I don't know what happened, I just didn't get it. Barry Levinson kept working with me and it was like I was blind and deaf. I couldn't figure out anything. And I was embarrassed! They flew me all the way out and then I didn't get the job.
How do you typically prepare for an audition?
I was never good at them. Ever. Ever. I would study the script and try to get ideas and I guess finally, I don't know when it was, I just stopped trying too hard and I tried to be natural and that's when it got better. I'm really glad I don't have to audition anymore, although I will say this: I think even actors who are well known should work with the director and find out if it's a good fit.
Which of your performances has left a lasting mark on you?
Well, "Misery" left a lasting mark on me. When I die, it will be "Kathy 'Misery' Bates Is Dead." But in terms of something I always am proud of it would be "Dolores Claiborne." But I have to say last year there were a couple of scenes I got to do as Ethel [on "American Horror Story: Freak Show"] that I really felt so proud of. And there are a couple scenes of "Primary Colors" toward the end I was proud of. In both those roles, I got to do all the stuff that Meryl Streep's been doing for years and it's what I wanted to do when I started out. What I hoped I'd be able to do.

Like this post? Check out more of our Backstage 5 interviews!