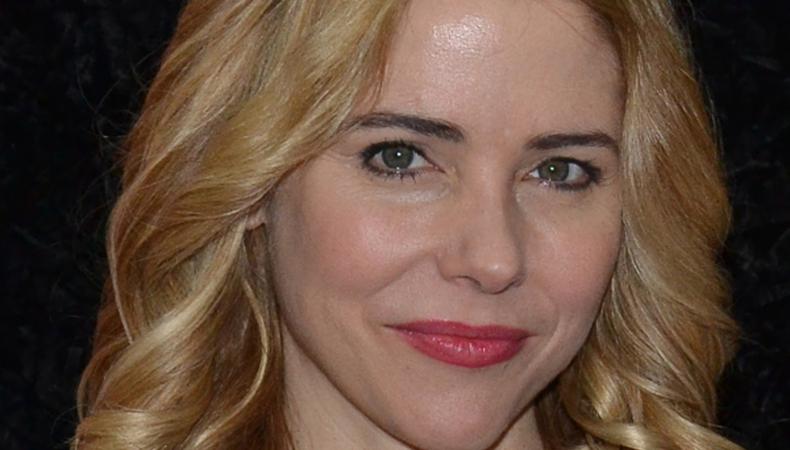 Broadway's own Kerry Butler has appeared in everything from "Hairspray" to "Rock of Ages," and now brings her musical chops to Paul and Michael Hodge's "Clinton the Musical," currently playing at New World Stages.
Tell us about "Clinton the Musical."
Well, it's satire and I think it's hilarious. The show is very even-handed; it talks about the circus that went on around the Clintons, and how people are imperfect and we have to accept that about them.
What have you learned about yourself while playing Hillary?
I've never played anybody who's actually alive before. Normally I have to make up a 30-page biography for my character, but now I have to read hundreds of pages of the biographies that are already there. You have your choices handed to you in a way. Whereas other times it comes from my imagination, in this case I'm taking on her body. At first it felt a little false, but now I start doing her moves in my regular life, in my own body! Also—I've talked to people at "SNL" about this—she's very hard to click into. Sarah Palin is obvious; there's so much to make fun of. But Hillary is so well-spoken, it's hard to find the thing that is funny about her. But I've found some stuff now.
Who's your ultimate acting crush?
I loved Will Swenson from "Hair." I remember watching him in that and thinking he made the craziest choices and I wanted to work with him. But I haven't. I did a reading with him one time and he made crazy choices in that, too.
What do you wish you'd known before you started acting?
I think when I was younger I placed so much importance on every audition, every job. Now I know that the ones you don't get, you don't get because something better is going to come along. One year I was the lead in five readings of new musicals, and I was feeling so good. And then I got recast in all of them! But then "Xanadu" ended up coming back to me, and that was one of the biggest moves of my career. Sometimes it's hard not to become attached to a role, but I try to trust that I'm meant to get what I get.
What was your worst survival job?
I would entertain children's parties as the Little Mermaid. It was actually a good job because you could make good money—the bad part was you had to drive to the party in your costume, and as Ariel I couldn't really walk. The birthday party would be in the middle of this park in Harlem, and I'd have to hop with my fin on, with people staring at me. And then sometimes they would hand me my costume and things would be missing. One time, I had short brown hair and my Ariel wig was missing. I had to show up and all the kids were like, "You're not Ariel!" They were all mocking me. "You're not the real Ariel!"
How did you get your Equity and SAG-AFTRA cards?
My Equity I got with my first Broadway show, "Blood Brothers." My SAG card I got when I was 4, acting in commercials. I don't know what my first one was, but I know I did Dixie cups. And detergent—maybe Bounce? Something like that. I paid for my college with all the money I made from commercials.
How do you like to prep for an audition?
Depending on if they want me to sing something of my own, I'll try to find something that is similar to the style of the show and what the character is going through. It's good if you have a really big book of choices so you can find the perfect song for a particular thing. And then I just work on the scenes the way everyone else does. I try to be off-book as much as I can and think about the character: who they are, how I can embody them, what they want. I go on too many auditions.
Which of your performances or characters has left a lasting mark?
All of my parts teach me something. I feel like I get parts for a reason. I'm meant to learn lessons from all the people I play. They're all my children, [but] Penny in "Hairspray" is the one I always say, because that was a magical show to be a part of. It was like a drug. You could feel it.
What's your worst audition horror story?
Gosh, there have been a few. Well, I play the ukulele, but I don't play in front of people; I just do it for fun, with friends or at home. And there are all those musicals now that say, "If you can play an instrument, come in." So I brought my ukulele to this audition. And I completely froze and could not play and sing at the same time! It was really embarrassing, because I totally can play; I just got nervous. They were so sweet, like, "Good for you for trying! Keep going!"
Like this post? Check out more of our Backstage 5 interviews!